Great Britain's three-time Olympic swimming champion Adam Peaty says gold medals will not solve his problems.
Peaty has previously spoken about periods of depression and problems with alcohol, and recently said he had been in a "self-destructive spiral".
He pulled out of April's British Championships, citing mental health issues.
"A good friend of mine said a gold medal is the coldest thing you will ever wear," Peaty told BBC Breakfast.
"It's the coldest thing because you think it will fix all of your problems. It will not."
Peaty, who still intends to compete at next year's Olympic Games in Paris, has said his depression and problems with alcohol worsened last year as he struggled with injury, motivation and the breakdown of his relationship with the mother of his young son.
He was also diagnosed with attention deficit hyperactivity disorder (ADHD).
"I took a break because I was on this endless search of a gold medal or a world record and I looked into the future and I said 'OK, if I do get that is my life fixed or any better?' No," Peaty said.
"So take the time now to really think about who you are, what you want out of life and then get the gold medal.
"Hopefully when I get to the Olympics I will be in a very good mindset, very grateful and most importantly happy."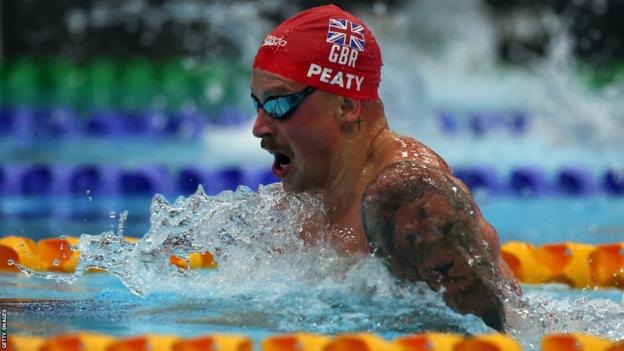 Peaty won two golds and a silver medal at the Tokyo Olympics in 2021, and a gold and a silver at Rio in 2016
Peaty has dominated his breaststroke events for nearly a decade, successfully defending his 100m title at the Tokyo Olympics in 2021 having earlier that year set a record for the fastest 20 times in history over the distance.
Over his career he has also won eight World Championship gold medals, 17 golds at European Championships and four golds at the Commonwealth Games.
Despite the success and his world record being nearly a full second quicker than anyone else has ever swum, Peaty says he hears voices in his head which often make him doubt his swimming abilities.
Asked what voices would say, Peaty said: "If I was going out to a race sometimes it would be 'you don't deserve this', even though I've done seven, eight, 10 years, a decade of work.
"Or sometimes it would be a voice of self-doubt, and I think that's natural because it's your brain trying to protect itself."
Peaty missed out on Commonwealth gold in the 100m breaststroke event in Birmingham last year, finishing fourth behind James Wilby after sustaining a broken foot in the build-up.
"As athletes our brains are wired a little bit differently, we're constantly chasing reward and if we can see that reward we will work extremely hard for that reward," Peaty said.
"So it's the same in your life and how do you fill that void especially when you're injured or in off-season, you're constantly looking for a high or a reward and a lot of athletes do struggle with alcohol.
"For me it was something that I was constantly chasing and constantly doing and I was like 'I don't want this in my life, I don't really want to do this all the time.'"
From BBC