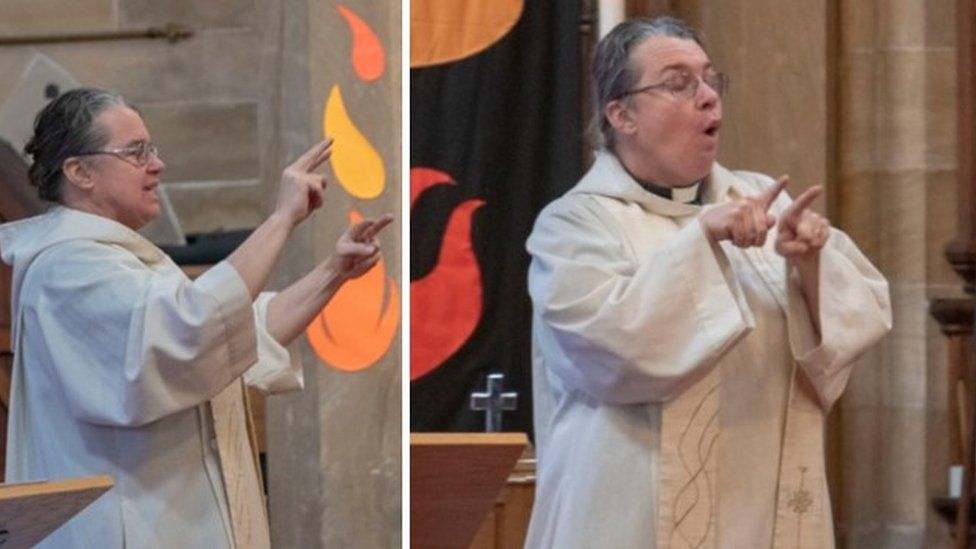 By Louise Clarke-Rowbotham and Beth Rose
Sign language has experienced a surge of interest in the past couple of years.
Deaf actress Rose Ayling-Ellis wowed on Strictly Come Dancing last year - and the film Coda, about a teenager who is the only hearing member of a deaf family, won best picture at the 2022 Oscars.
Now another project under way, with its roots stretching back more than 2,000 years: the Bible is being translated into British Sign Language (BSL).
Rev Dr Hannah Lewis, a Deaf priest based in Liverpool, always believed she had a good understanding of the Bible. As someone who is "completely bilingual in English and BSL", she didn't think she was missing out.
"I can read it, I can understand it, I can preach on it. But when I see the Bible in BSL it just hits me - emotionally, spiritually - in a way that reading never will.
BSL is Hannah's first language and, as such, the most meaningful.
But at the time her understanding of the Bible came down to the subjective reading of individual interpreters - their take on the stories and words on any given day. Come the following week, or a different interpreter, the Bible stories might be signed slightly differently and convey slightly different meanings.
The BSL Bible Translation Project is trying to put that right. A team of Christian volunteers have been working with historical and biblical experts to translate the Bible from the original Greek and Hebrew texts into a BSL video version where the signing will not be subject to change.
It will be the first translation project that is not affiliated to any specific church or denomination so it can be widely accepted by mainstream Christian denominations and churches.
The project has involved about 20 people, from theological experts to BSL linguists, interpreters and presenters, at a cost of about £1,000 a day - all from sponsorship.
Their aim is to strike a balance between scholarly interpretations of the texts while ensuring the translation is accessible, accurate and looks natural in BSL.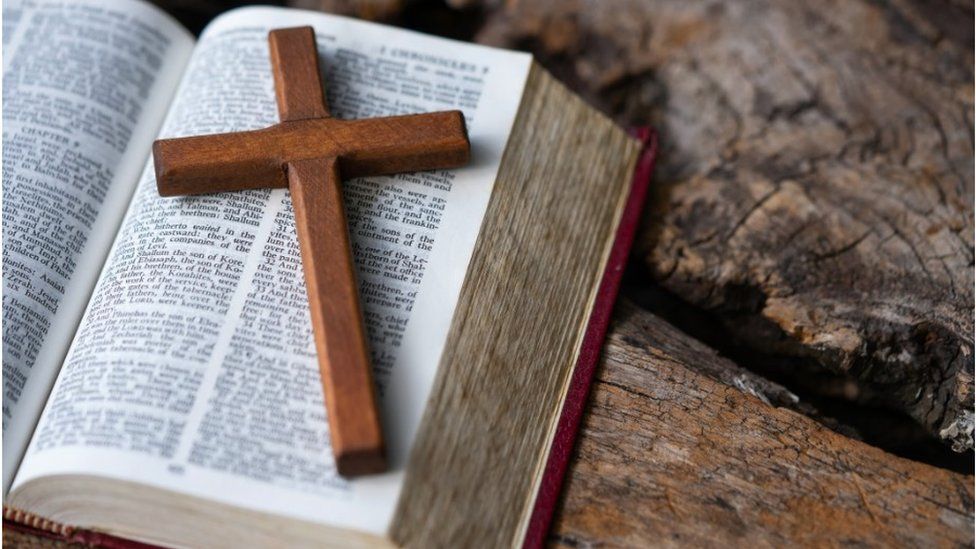 The team has so far translated Mark's Gospel and has started on parts of Genesis, both of which are available on the project's website.
But it's not entirely straightforward. There are many versions of the Bible in English - because translators rarely agree on how to express the meaning of the original texts.
Janice Silo, a trustee of the project - who is Deaf and was a teacher of Deaf students before her retirement - says it has given the community a chance to think about its meaning in their own language.
"Growing up, it felt like I was always told what to think. When I became a teacher I wanted the children I taught to think for themselves.
"I feel that Christians should read the Bible for themselves, but Deaf people don't have a Bible in their own language so this project will ensure they do."


Why is the word "Deaf" capitalised?
The capitalised version of "Deaf" is widely used for those who are Deaf and use BSL. They define themselves as culturally Deaf, with their own language.
Where "deaf" with a small "d" is used, it is typically for people who consider they have a hearing problem and whose first language is English.


Signing is often considered the "dynamic interpretation" of language, meaning it is used to convey thought-for-thought rather than word-for-word. It focuses on feelings and nouns, rather than conjunctions such as "for", "and" or "but".
Rev Canon Gill Behenna, one of the trustees of the project, is a Church of England priest and works with the Deaf community in Bristol. She says the project is using signs that are already widely understood, rather than creating new ones.
"We are translating into BSL, which is a language," she says. "We are not 'transliterating' which would be word-for-sign. We're translating whole concepts."
She herself is hearing and bilingual, speaking both English and BSL. She cites English as her first language and took up BSL for a temporary job 40 years ago.
In Mark, chapter 4 - Gill explains - the English text reads: "A sower went out to sow." In BSL this would be signed as "there is a person with a basket of seed" followed by the signer creating a basket shape with their hands and then scattering seeds.
"BSL creates a picture. In English, the picture is created by words," she says.
"When I read the Bible I am sometimes inspired by a single verse or story, and I sense God communicating with me through that. I want the same for Deaf people.
"Although a huge number of Deaf people are bilingual, it's different having the words of scripture in your own heart language - the language you use and you identify with."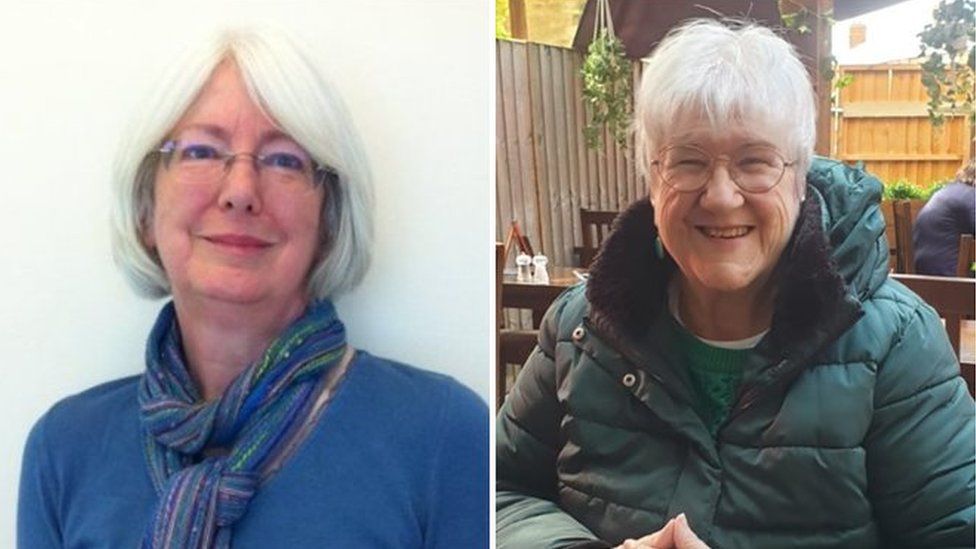 I

Gill Behenna (L) and Janice Silo
Currently, Deaf churchgoers may experience sermons with an interpreter, but sometimes the signing can be done on-the-fly and, as such, some Bible stories can be embellished or added to unnecessarily.
Gill remembers a signing of the story of Jesus stilling the storm. With Jesus asleep in the boat, the disciples wake him up.
"The version I saw included a conversation between two disciples: 'Wake him up!' 'Me? No, you wake him up!' We wouldn't do that in a translation because that would be adding to the [Bible's] text," she says.
Hannah says going to church as a Deaf person can be a mixed experience and - whether it's good or bad - it is often taken as God's opinion of you.
If you go to church, and "there's no access at all, the rejection is not coming from the church, that rejection is felt as if it's coming from God," she says.
Before the first national lockdown, during the coronavirus pandemic, Hannah was involved in integrated services within her diocese which adopted elements of both hearing and Deaf culture.
That included the congregation remaining seated throughout the service so everyone could see the interpreter.
"Quite small changes like that change the whole atmosphere," she says.
But Hannah thinks BSL and Deaf culture add more to worship than just inclusivity.
"People find that their senses are opened to worship, to God, in a way that they aren't before."
She says some within the Church of England might close their eyes to listen to a sermon or prayer, but "when I lead in sign language I encourage people to keep their eyes open and people find that it benefits their own faith".
While the BSL Bible Translation Project does not currently have a deadline for completion, a similar project to translate it into American Sign Language took 40 years.
But Janice says it will be worth the wait.
"Deaf people will be able to watch the Bible for themselves, instead of having to ask for explanation or relying on interpreters all the time.
"William Tyndale, who translated the Bible into English, said that he wanted anyone - even a 'lowly plowboy' - to read the scriptures. I want that for Deaf people too."
From BBC