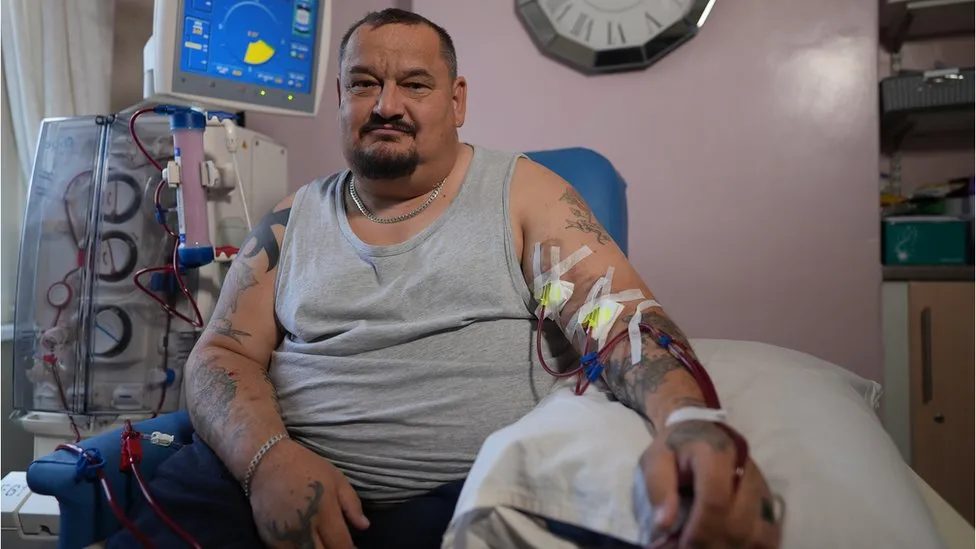 Nicky has to have kidney dialysis for five hours every other day
While the cost of living is soaring, millions of people are coping with the uncertainty of whether their benefits will rise with inflation.
In Sunderland, where one in 13 of the working-age population claims out-of-work benefits, Nicky and Alison are struggling to survive.
"I'm freezing right now, I'm shivering while I'm on dialysis, but I won't put the heating on because it's too expensive," says Nicky Telford.
The 43-year-old, who used to work in a factory, has to have kidney dialysis for five hours every other day, since suffering a blood clot.
The cost of Nicky's groceries and utilities bills have gone up sharply, and news that the government may not raise his benefits in line with inflation has hit him hard.
"I'm on benefits because obviously I can't work, [but] things are getting dearer and benefits aren't going up," he says.
The cost of living is increasing at nearly its fastest rate in 40 years, with prices in August almost 10% higher than a year earlier.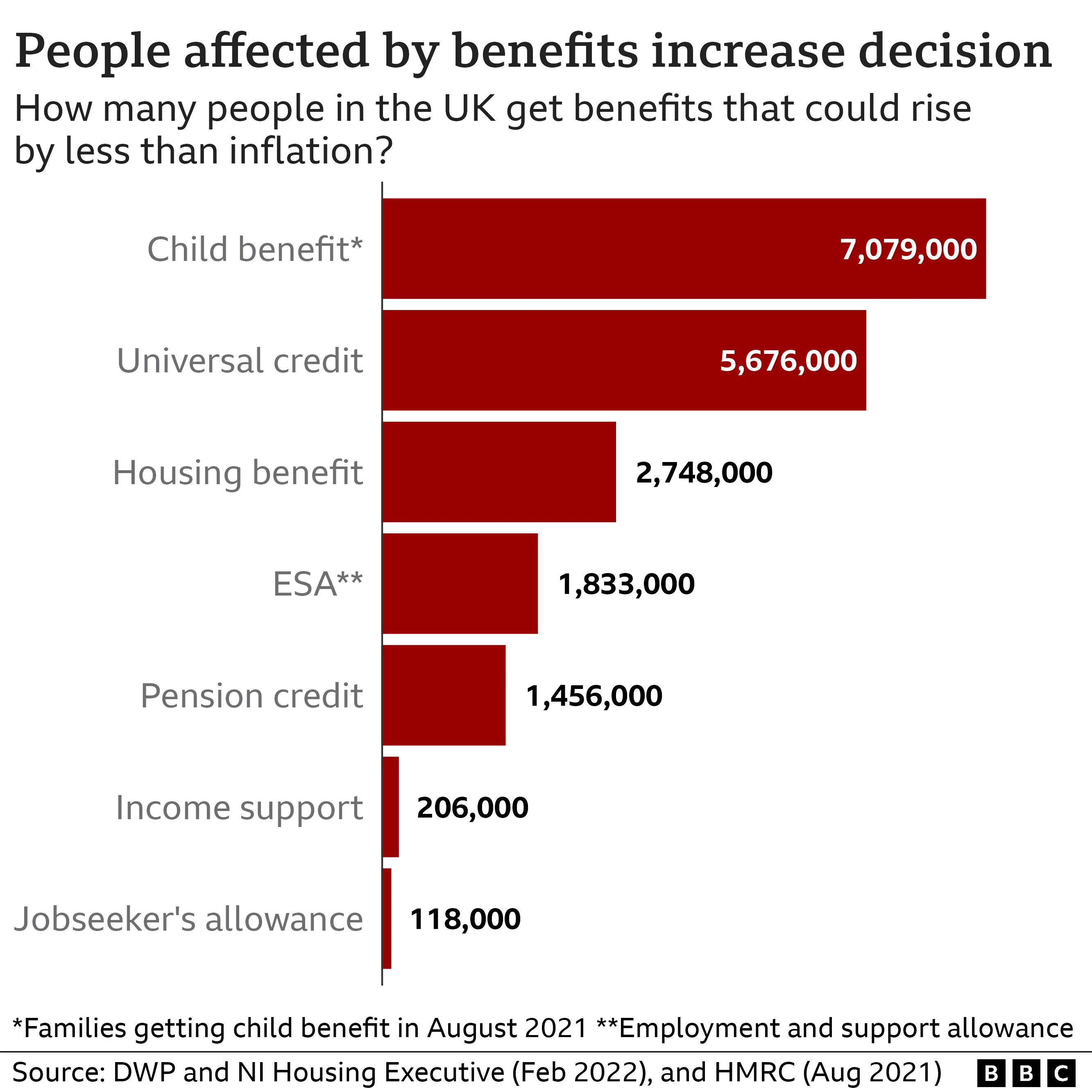 Nicky's younger daughter, a trainee paramedic who lives with him, recently turned 18, meaning he no longer receives child benefit.
He has also been hit with the "bedroom tax" - which reduces the housing benefit available to social housing tenants with spare bedrooms - since his older daughter moved out. He says he's put three bids in for smaller houses, but hasn't heard back.
Nicky has been supported through patient advocacy and financial grants from charity Kidney Care UK. But he says his dialysis room at home already feels "like a fridge" and his biggest fear is that financial pressures are going to force him to go to hospital for the treatment.
"With electric bills going up I don't know how long I can actually do dialysis at home. I just live day by day at the moment, I don't see a future," he says.
"There's nothing more frustrating than a man who wants to go out to work, who can't, who feels like he can't support his family."
Nicky and his daughter live in a suburb of Sunderland, where about one in five households is on a low income. That's compared to one in seven nationally.
The percentage of working-age population who claim out-of-work benefits is also much higher than the national average.
Nicky receives personal independence payments (Pip) - which are designed to help cover things like transport for disabled people - as well as employment and support allowance, and universal credit.
The government has not confirmed whether it will stand by its manifesto commitment to raise all benefits in line with September's inflation figure, which is due to be published on 19 October.
By law, benefits such as Pip and the disability living allowance must rise in line with prices.
But other benefits, such as universal credit, are not protected in this way and have not gone up at the same rate as inflation for nine out of the past 12 years.
Some people have suggested it makes more sense for benefits to rise at the same rate as wages, which went up by 5.4% in the three months to August 2022.
Conservative MP Lee Anderson said it "does not seem fair" for those on benefits to get "inflation-busting" increases of as much as 10%, while public and private sector workers are offered pay rises of 2-4%.
'You daren't go out every day'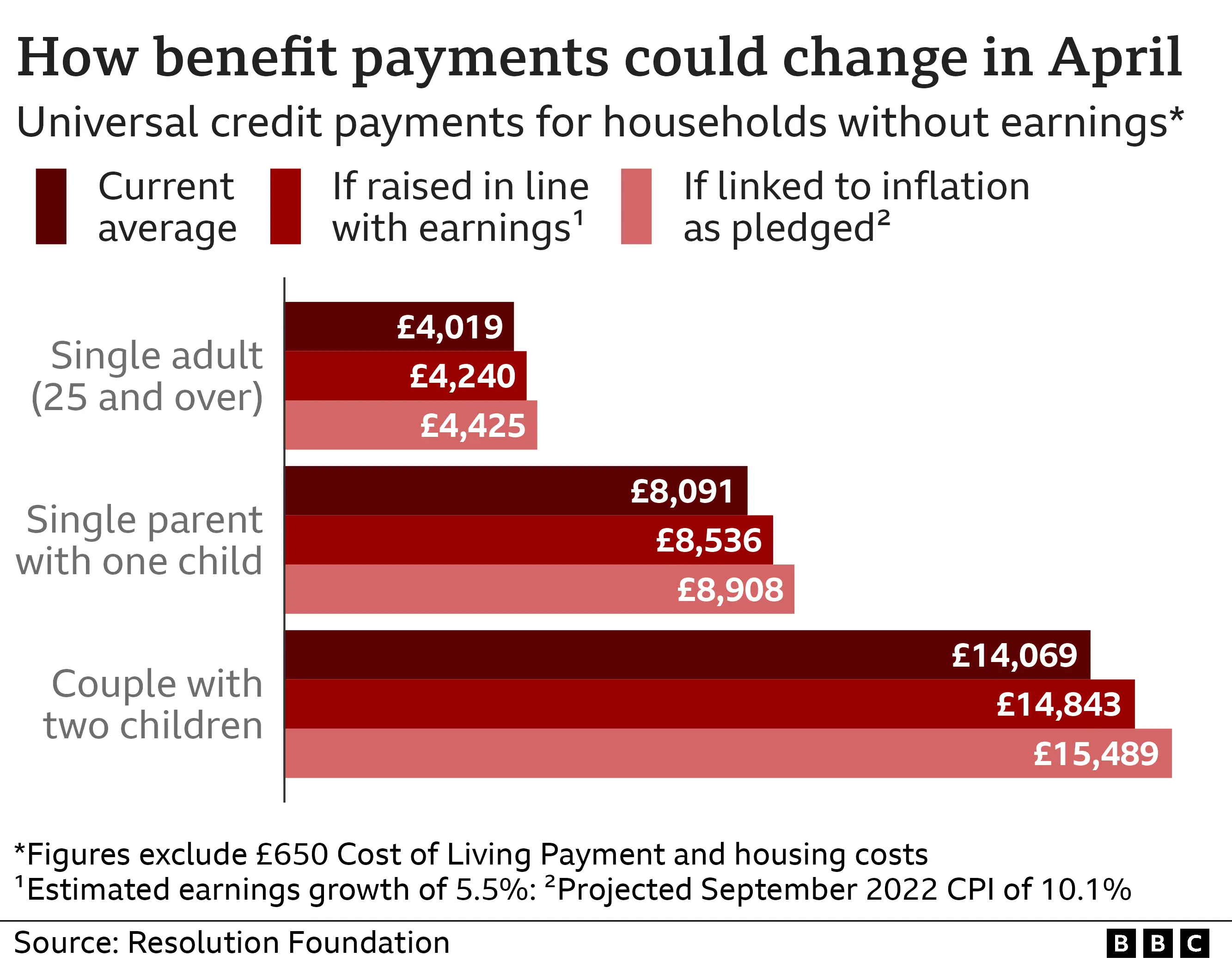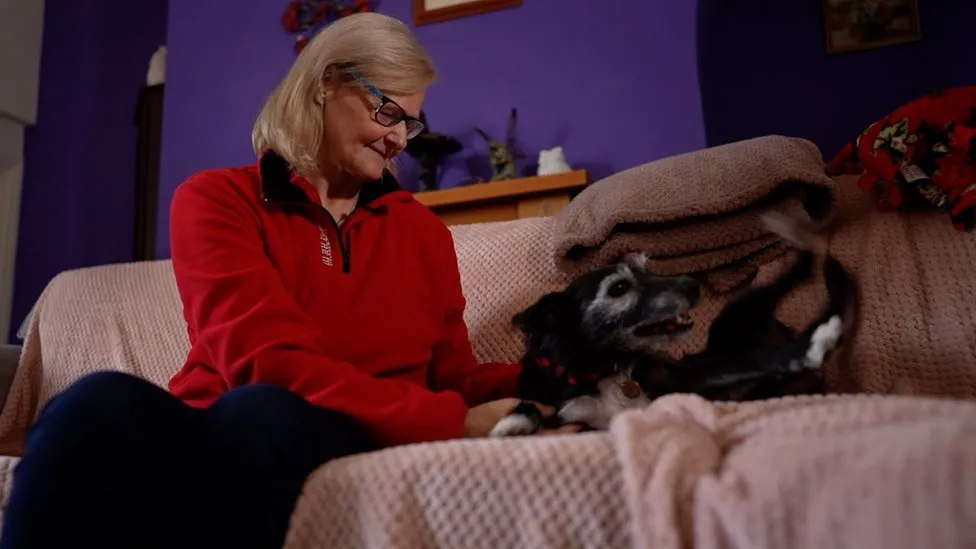 Alison is wrapping up in blankets to keep warm
Alison Bailey, 57, is always trying to come up with ways to make the money go further, but it's a stretch at the moment.
The Sunderland native left her previous job at an energy firm due to ill health and is now a carer for her mother, who suffered a stroke five years ago.
She receives £69.70 a week in carer's allowance - which will go up in line with inflation - and around £500 in universal credit. Her rent is £450 a month, leaving her about £100 a week for food and bills.
"Prices are just so beyond anybody's means at the moment. You're spending the same amount but you're not getting the same amount of stuff," she says.
Like Nicky, Alison wraps up in blankets rather than putting on the heating, while her beloved dogs Poppy and Charlie also keep her warm.
"I've started to use an air fryer, and I put stuff in the slow cooker or microwave, I don't use the gas now.
"You try to keep to a healthy diet but it's just impossible to do. Fruit prices have gone up - everything has, and you just feel as if your world is shrinking in on you. And you daren't go out every day because you end up spending money that you haven't got to spend," she says.
"The only enjoyment I get now is when I'm out with my dogs."
She is urging the government to raise benefits by "as much as they possibly can" as "people just can't survive on what they've got".
Self-disconnecting from utilities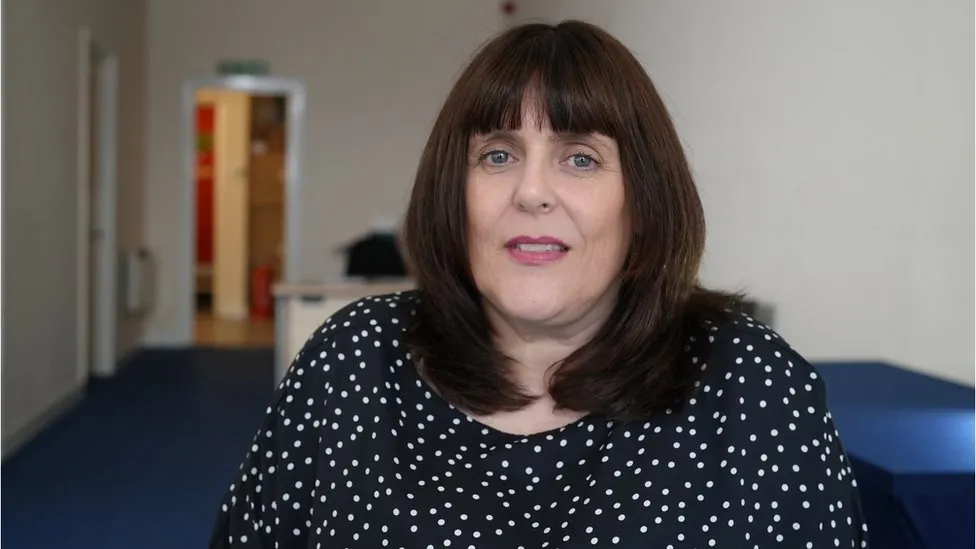 Denise says people are self-disconnecting from their utilities to save money
Unfortunately, these are the kinds of money problems Denise Irving hears about every day. She is the manager of Citizens Advice Sunderland, and has seen demand for its services skyrocket.
During the whole of October 2021, 323 people attended the centre's drop in. But this October, 206 have used it in the past seven days, she says.
The most common issue is benefits, followed by debts, energy prices and the struggles with the cost of living in general.
"On the whole it's simply that they haven't got enough to live on so they want to make sure they are on the right benefits and there's nothing else they are entitled to.
"We do have high levels of unemployment in Sunderland but we also have high levels of disability and sickness. Most of the people that come to see us are disabled, have caring responsibilities or are on long-term sickness."
There's also been a 45% increase in the number of working families using the service, she adds.
"We've been hearing about heat-or-eat for the past two years, now they don't really have a choice of either - what we're finding is that people are self-disconnecting from their utilities to save money.
"We've always seen issues with affording Christmas and the like but now it's that they simply can't afford to pay the council tax, pay gas and electric bills and buy enough groceries to last them the week," she says.
The government says it will begin its statutory annual review of benefits and pensions from late October.
A spokesperson for the Department for Work and Pensions said the government was "committed to looking after the most vulnerable" and had demonstrated this through the package of support measures it had made available, including the energy price guarantee.
From BBC