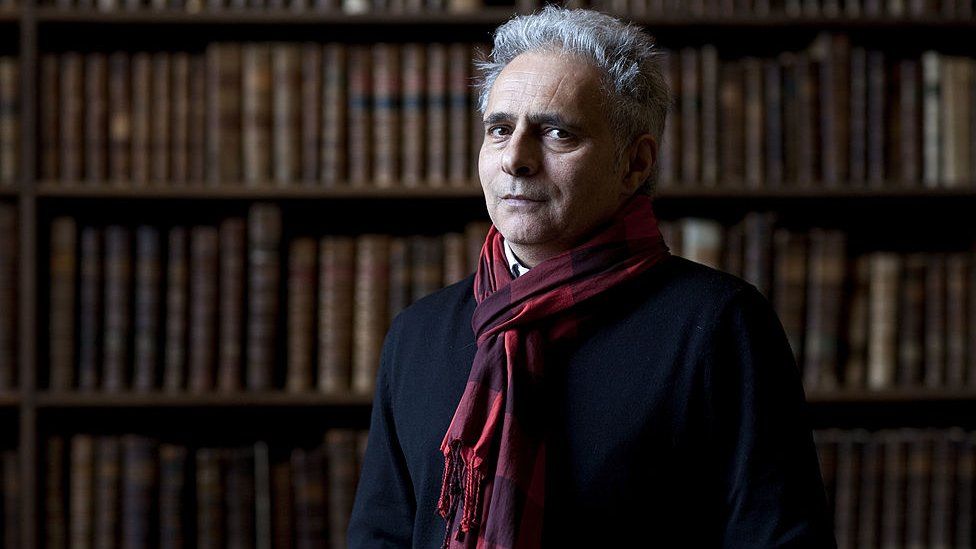 From his early success with My Beautiful Laundrette to the novel The Buddha of Suburbia, Kureishi has offered a distinctive view of class, sexuality and religion
The Oscar-nominated screenwriter Hanif Kureishi has told the BBC he "saw death" after being paralysed following a fall in December.
The award-winning author of My Beautiful Laundrette and The Buddha of Suburbia fell while on holiday in Rome on Boxing Day.
The episode left him unable to move his arms and legs.
In his first international broadcast interview, he told the World Service's Newshour how his life has changed.
"I saw Death; Death was chattering to me" he told me, convinced he was going to die, and said he wanted to video-call his children to say goodbye, but was persuaded against it by his girlfriend, Isabella D'Amico.
He eluded death but is now learning to live with his transformed circumstances. He has some feeling in his arms and legs but can't do anything.
A physiotherapist says he may be able to hold and use a fork in a few weeks. And then there is the surprise of a new and growing audience for his work: millions of people are reading the words he is dictating on his blog, about what has happened to him, but also what he is learning about himself and the human condition.
He has never written like this before, preferring writing in a book with a fountain pen, and a computer for re-writes.
Now, he dictates his thoughts and has been amazed by the response; an accident that came out of an accident.
He says he has often felt alone and sleeps little, listening to the World Service, BBC Radio 3 and 4, and has had some comfort from knowing people like his writing and are rooting for him, in the midst of what he describes as despair, all the time.
His 2006 screenplay Venus earned best actor nominations at the Oscar, Bafta and Golden Globe awards for veteran actor Peter O'Toole
The words he has been dictating have been life-affirming, dark, funny and alive to his reality.
And shifted what he thinks about disabled people: "Suddenly, I walked through the door of sickness, and I have been transformed.
"I had never really thought about the condition of disabled people and now I know. There isn't a family in the world that will not have some experience of a disabled person.
"We are living in a world of agony and pain that I never knew existed, and I want to see the world from these people's point of view.
"I also want to set up a charity for writers who are disabled, called Metamorphosis, after the Kafka novel."
His friend the writer Salman Rushdie, who was attacked at a literary event in the summer last year, is in touch with him, regularly, sending amusing texts.
According to Kureishi, Rushdie does not talk about what happened to him, saying that he's very private.
"Whereas, I do talk about what happened to me. I need to remember my identity as a writer, in the only way I can."
When I asked him if he was a patient, he said he wasn't. But he had to be.
What he wants is for his hands to come back, so he can write and type. They will, he thinks, but it could take six months.
He says of that question that sick people often ask themselves - why me? - the simple answer came from a school friend: why not me?
What makes any of us think that we will be the exception, that illness will not strike us down?
Kureishi, who is nearly 70, says he is grateful that it has happened to him towards the end of his life.
From BBC