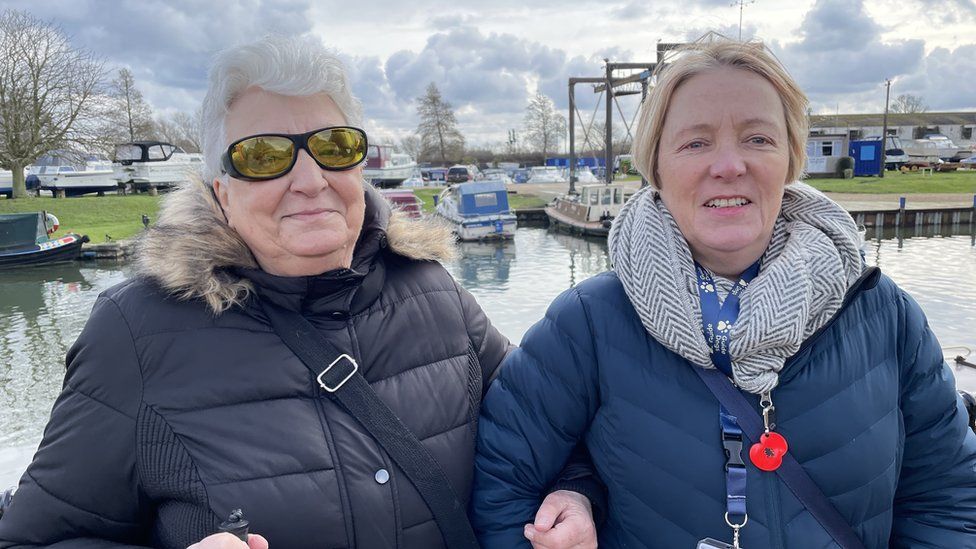 Linda Skinner receives support from sighted guide volunteer Sarah Pocklington once a fortnight
A woman who lost her vision six years ago said having a sighted guide to help her get about had been a lifeline for her and meant she was not a "recluse".
Linda Skinner, from Ely, Cambridgeshire, said it had been like "looking through very dark net curtains" since her sight loss in 2017.
She is supported by Sarah Pocklington, who helps Ms Skinner because she cannot have a guide dog due to health issues.
The Guide Dogs charity wants more volunteers like her to come forward.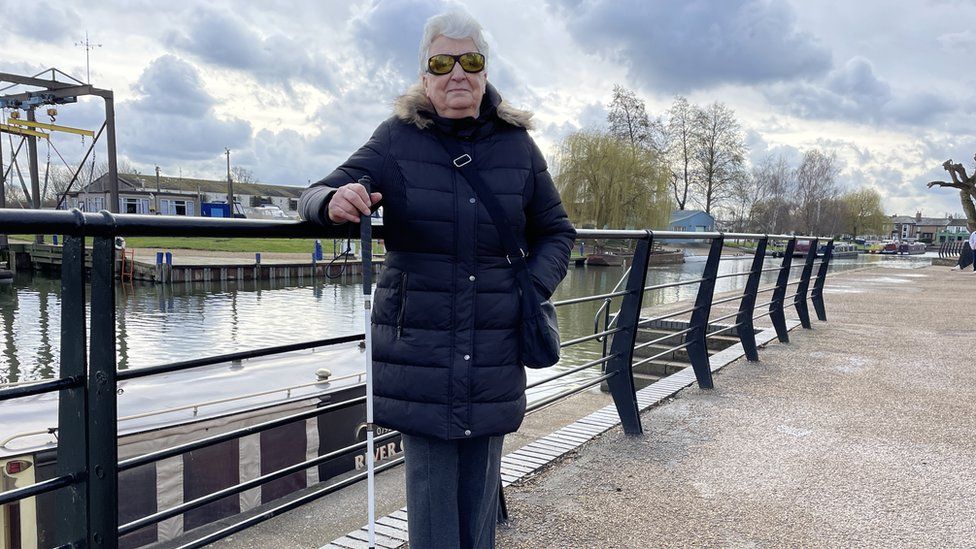 Ms Skinner cannot have a guide dog due to health problems
Linda Skinner had shingles in 2017, which caused a mass on her brain and damaged her optic nerves, causing them to become burned out.
"You lose a lot when you lose your eyesight. You lose your independence," she said.
Ms Skinner cannot have a guide dog because of issues with her spine, meaning she would not be able to walk it very far.
She uses a cane to help navigate her surroundings and once a fortnight her sighted guide, Ms Pocklington, takes her out and about in the community, where they go for walks or visit the shops.
"I can't see very well at all now and Sarah's my eyes, my guide. She's like a little personal sat-nav," said Ms Skinner.
She said it "means a lot" to have Ms Pocklington with her, because she "wouldn't be able to do half the things I do" without her guidance.
"You don't have to become a recluse," she said.

Ms Pocklington said she now saw her world "a little bit differently" since helping Ms Skinner
Ms Pocklington was originally trained as a guide runner to help visually-impaired people at her local running club.
She was looking for a new volunteering opportunity after being made redundant and came across the chance through the Guide Dogs charity.
Once she had completed her training, she was paired up with Ms Skinner and their friendship took off - saying they "have an absolute ball" together.
"I've been to places with Linda... that I didn't even know existed before. It's opened up my world quite a bit, even though I live locally," said Ms Pocklington.
She said Ms Skinner was now "a lot more confident" and "more outgoing" than before they met.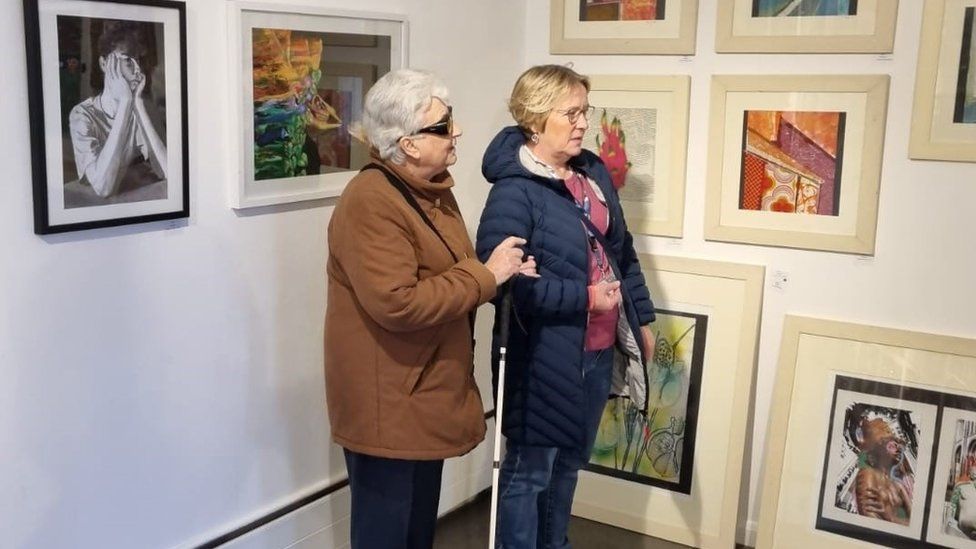 The pair like visiting museums and galleries in Ely and Cambridge together
Guide Dogs said there were currently 200 partnerships in the Midlands and East Anglia, and the area's waiting list for people needing a sighted guide volunteer had 175 people on it.
A spokeswoman for the charity said: "We are looking for sighted guides across the east of England, but specifically in Ely and Peterborough for people on our waiting list who want to get out and about, who want to build their confidence.
"I think we're especially finding post-pandemic that even people who were confident previously have that little bit of anxiety now, so we're looking for people to help people get out in their local community."
From BBC