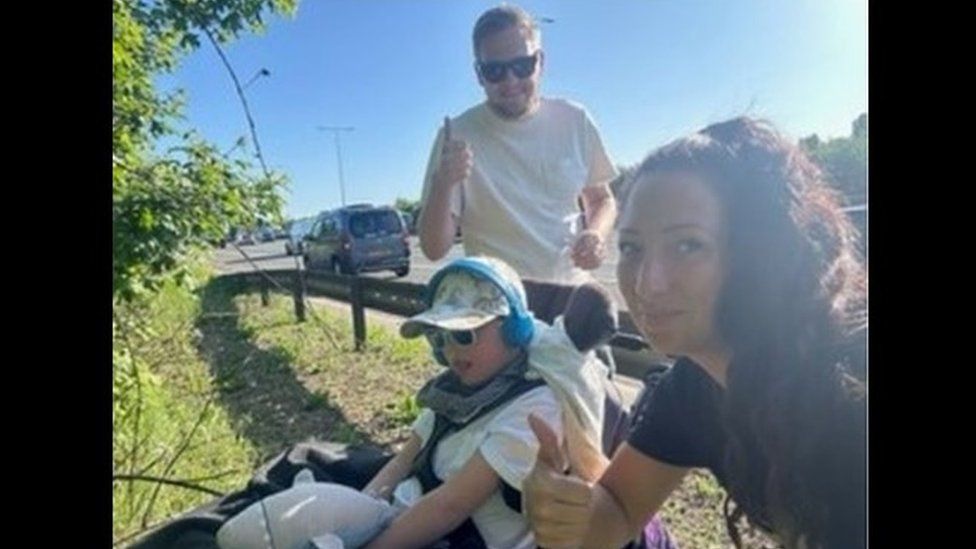 A family was left "petrified" after the RAC failed to attend when their car broke down at night, despite being on a disability priority list.
Sophie and Callum Smart were returning from a birthday trip with their son Karson, who has cerebral palsy, when the car's clutch failed on the M1.
The family made many calls to the RAC over seven hours but no-one turned up.
The RAC said: "We've apologised personally to Mrs Smart for her and her family's experience."
It told the BBC's Access All podcast the situation was "in no way reflective of the excellent service we provide to thousands of drivers every day of the year. We're also providing a gesture of goodwill to say sorry."
The family's ordeal began at 17:29 BST on 26 May when their car, a wheelchair-accessible vehicle, broke down near junction 8 on the M1. The family had been to Alton Towers theme park to celebrate Karson's 8th birthday.
They managed to manoeuvre the vehicle to the hard shoulder and lifted Karson and his wheelchair over the motorway barriers.
As members of Motability - a scheme enabling people to use disability benefits to lease a vehicle - the family was on a priority list with the RAC and should have been attended to within 45 minutes.
After their first call, the RAC said it would be with them within 34 minutes.
"We were feeling OK at this point," Sophie said.
But as the hours passed and the temperature dropped, Sophie became increasingly worried.
Her husband, Callum, repeatedly called the RAC who kept saying recovery would be there within the hour.
Callum also spoke to National Highways, which said because of the RAC's imminent arrival it wouldn't dispatch a traffic officer.
Callum tried using an SOS emergency telephone on the motorway, but could not hear the operator clearly.
With limited food and water, and Karson becoming increasingly distressed, Callum phoned Hertfordshire Constabulary.
Sophie said: "On the third attempt at calling the police, they actually hung up on us and told us it wasn't an emergency.
"I just broke. There's no words to explain how a mother feels in that situation. I was petrified."
Following the event, the force said: "Whilst the correct policing protocols were followed on the day, we are in the process of reviewing our contact with the caller."
During the evening a passing stranger gave the family some food and water.
"If it wasn't for that generous man we wouldn't have been able to administer Karson's medication," Sophie said. "I was just beside myself, I needed to get my son to safety."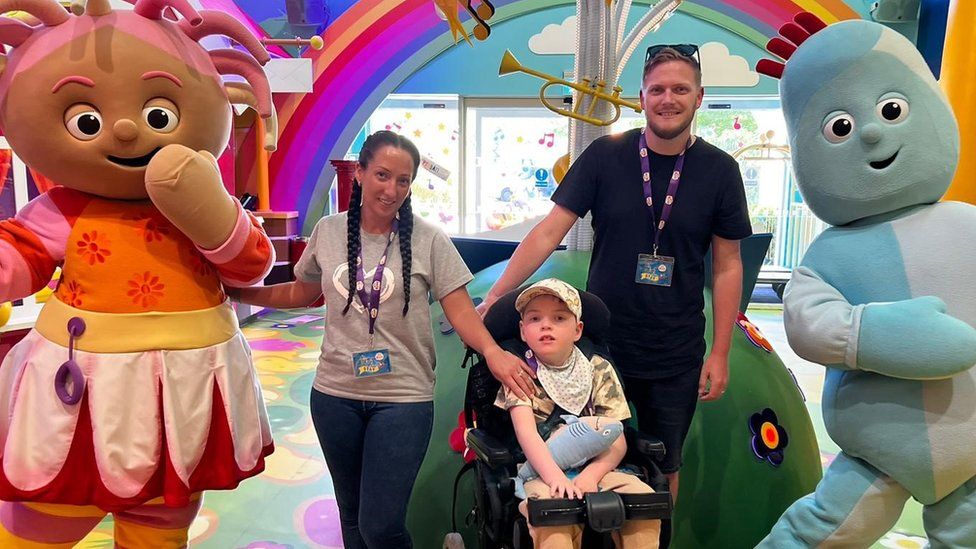 Sophie, Karson and Callum enjoying a day out

As it approached midnight, the family called a friend who drove 90 minutes to collect them. But Karson's bespoke wheelchair would not fit in his car and had to be left in the broken-down vehicle.
The Smarts were told their car would be returned to them overnight. National Highways said it sent a traffic officer to recover the vehicle at 00:30 BST on Saturday "as the RAC had still not arrived". It took the vehicle to a police garage, which was closed to the public for the Bank Holiday weekend.
"We were without Karson's wheelchair for four days," Sophie says. "He was bed-bound."
The following Tuesday, Callum had to take a day off work and make a five-hour round trip in a taxi to collect the wheelchair. Motability paid for this.
Graham Footer, the chief executive of Disabled Motoring UK - a charity which supports disabled drivers, passengers and Blue Badge holders, said: "I'm absolutely shocked and flabbergasted to hear this. This is absolutely unacceptable."
Mr Footer, who also sits on a panel for National Highways, said: "I think there's been a massive breakdown in communication between the agencies."
His advice to disabled drivers and passengers involved in a breakdown is:
Get as far left on the hard shoulder or roadside as possible

If you can't get out of the vehicle, keep your seatbelts and hazard lights on

Use the eCall SOS button within your vehicle. Since 2018 most vehicles have an eCall button positioned in the ceiling console. If pushed, it will contact a 999 operator and give the location of your vehicle

If you cannot exit the vehicle, you must call 999 and National Highways and they should dispatch traffic officers
Mr Footer said: "There is no way anybody should ever have to wait that long for assistance on a motorway.
"Sophie did everything right. She got her family to safety. It's just that the response was an absolute failure."
From BBC