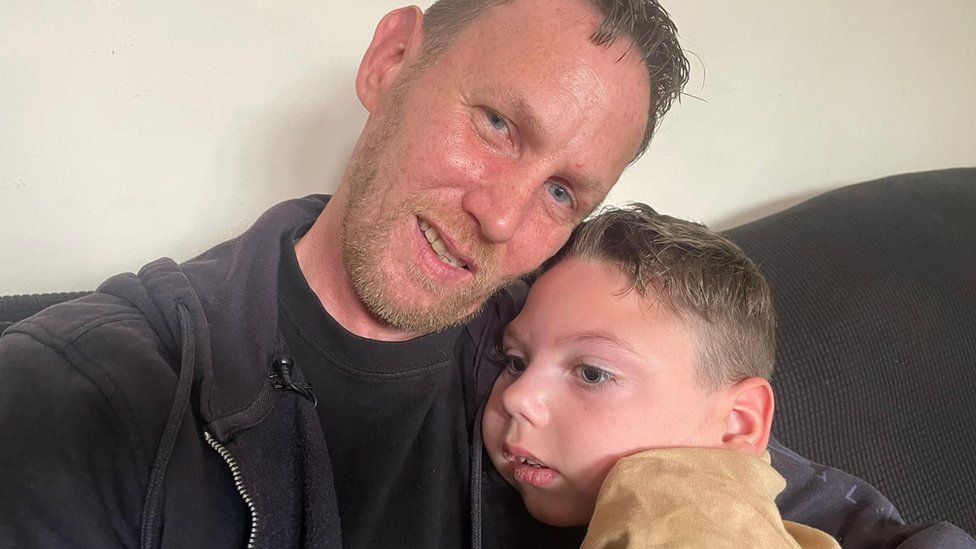 Image caption,
If Tristan's muscles get too hot or too cold it can cause him severe pain
The father of a disabled five-year-old boy has admitted he is feeling panicked about the rising cost of energy bills.
Tristan, from Creswell in Derbyshire, has a condition called dystonia that causes his muscles to contract involuntarily.
If he gets too hot or too cold it can cause him severe pain.
His father Adrian said it was likely energy costs this winter would put him in debt, but he was not prepared to compromise the health of his son.
The typical gas and electricity bill could increase to as much as £3,554 a year from October.
Adrian, 41, a single father with two children, said: "Come winter I am panicking about the rising price of gas.
"I need to have my heating on all the time to keep him at a level where he doesn't get cold.
"He can't be cold - cold will flare up his condition."
Adrian said it was not just heating that his son needed.
He also has an electric bed with a mattress pump and hoist, a fan, a bubble tube and a television.
He said it was unlikely he would be able to afford his bills this year.
"If debt is the only way his health needs can be met, then debt it is.
"There's no other way about it," he said.
The charity Scope, said that "isn't going to touch the sides" with energy bills predicted to reach more than £4,000 a year by January.
From BBC