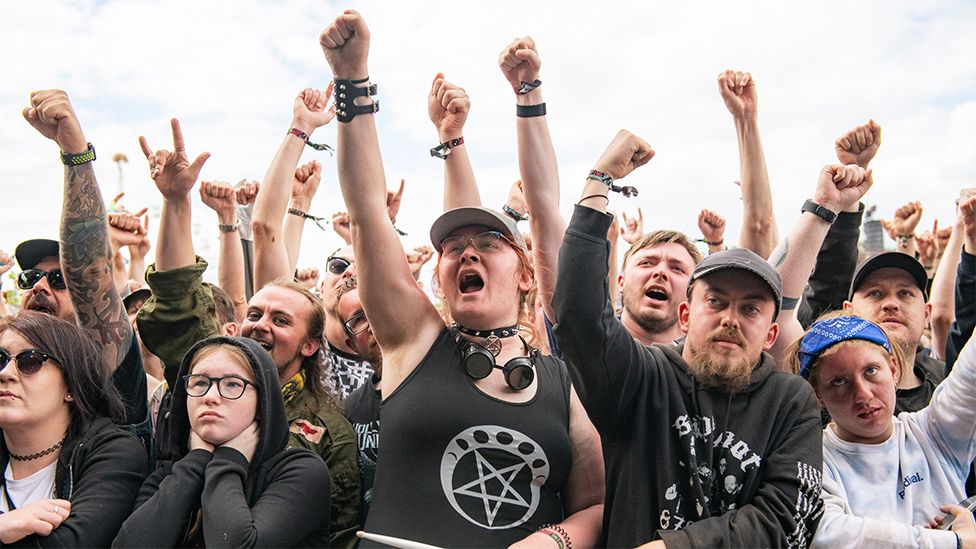 A crowd of about 100,000 people gathered at Donington Park for Download Festival
A disabled music fan was "pinned" under his mobility scooter in a car collision at Download Festival, it has emerged.
Steve, who does not want to use his surname, was near an entrance when the the incident occurred on 8 June.
"A car pulled out from the site straight into the back and over me, crushing the scooter with my legs trapped underneath," he said.
Download said it was aware of the situation. Leicestershire Police added enquiries were "continuing".
Steve told BBC Access All he had left the Castle Donington site to get food supplies. When he returned, at about 10:30 BST, just before the first band opened the festival, the collision occurred.
He said his scooter was "crushed, with me pinned under it. I was in a great deal of shock".
A nearby ambulance crew tended to him and took him to the site's medical centre.
At hospital, it was found Steve had broken several bones in his "good leg" - the one he normally relies on for mobility to help him get around. He has since had surgery "to put screws through my ankle to secure the breaks".
Having also recently sustained a shoulder injury and broken his clavicle, Steve said he is "down to only one working limb". He remains in hospital while appropriate care is found, and temporary adaptations are made to his home.
"There's still a lot of pain, and I'm on a generous amount of painkillers. Currently the doctors have given me the all-clear to leave hospital, but arranging the new equipment is holding that process up."
Steve said Download Festival and Live Nation, which operates the event, had made contact with him to notify him they had located his mobility scooter at the festival site and would return it.
The incident was just one of a number which led to complaints by disabled ticket-holders to Download Festival organisers about accessibility at this year's event. Many also contacted the BBC's Access All podcast to raise their concerns.
Abi, who has a chronic illness and uses a walking stick, says she left Download Festival early because the access challenges were affecting her mental health.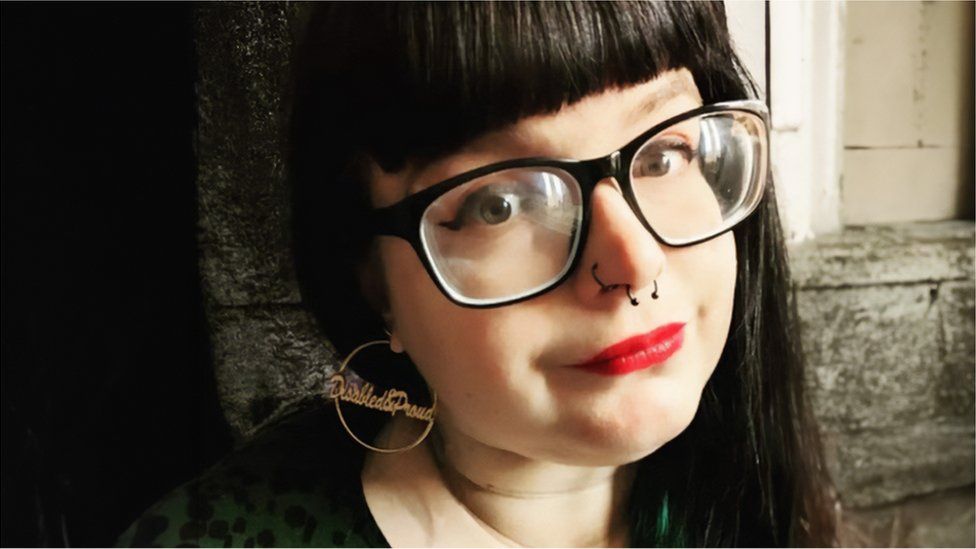 "We've had issues with access in the past but this year has been a million times worse," she said. "The fire lanes were blocked by tents, people from other camps were being crammed into the access camp.
"Accessible toilets had no - or loose - grab rails, and hadn't been cleaned as regularly as non-accessible toilets.
"It was just a complete nightmare from start to finish."
In a statement, festival organisers said: "Download Festival received complaints from customers regarding access on site. We take these matters very seriously, and the relevant teams are working to resolve these with customers. We are not at liberty to discuss individual cases."
The charity, Attitude Is Everything, monitors and works with the music industry to ensure it is accessible to disabled music fans, and rates venues and festivals in its Live Events Access Charter.
It rates Download as a "Gold" festival and one of the most accessible. It said it was aware that complaints had been made about this year's event and it was collating feedback.
While he waits to be discharged from hospital, Steve says he has received huge amounts of support from the access volunteers at the festival and those in the online community, as well as from Facebook groups related to Download.
"They have been amazing support - fans supporting fans - and have helped me get through this with positivity and compassion.
"I have been attending this festival since it was Monsters of Rock in the 90s - I won't let this stop me going next year."
From BBC