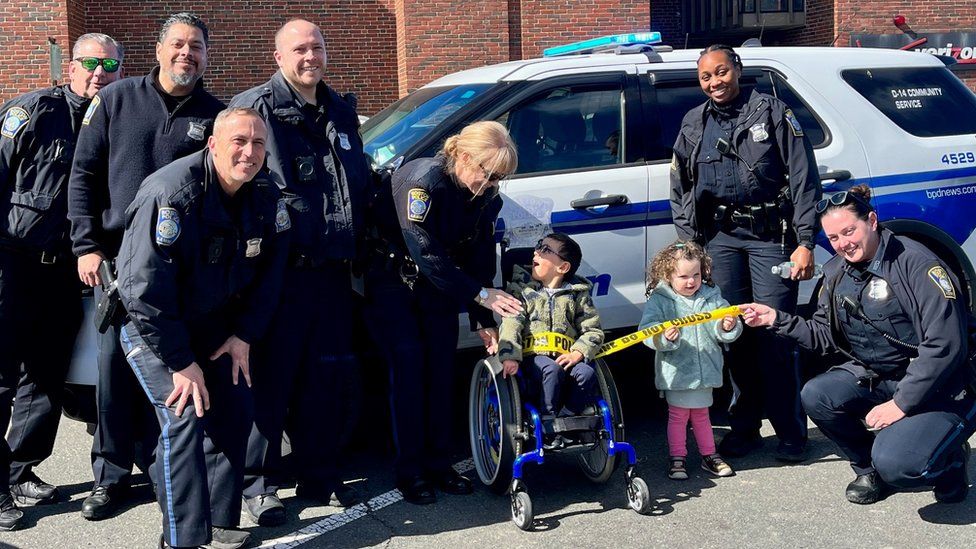 The officers showed Oisín and his sister, Naoise, a Boston police cruiser and posed for photos

A four-year-old boy from Northern Ireland with quadriplegic cerebral palsy has become an honorary Boston police officer for the day.
Oisín Traynor, from County Armagh, was in the US for three weeks for medical treatment at Boston's NAPA Center when the surprise meet-up was arranged.
The officers showed Oisín a Boston police cruiser and gave him his very own Boston Police Department patch.
His mum says it has given him a boost ahead of surgery in Belfast on Monday.
Seanin said the family arrived back home from their trip last Sunday and Oisín has not stopped smiling since.
He was born 25 weeks premature and weighed only 950g, after Seanin developed sepsis and was rushed for an emergency C-section.
Oisín spent the first six months of his life in hospital under constant care, and has been in and out of treatment rooms both in Northern Ireland and abroad.
He has quadriplegic cerebral palsy, among other health conditions, that affect his muscle control, balance and co-ordination.
Oisín attends the Buddy Bear School in Dungannon in County Tyrone which provides support and encouragement to children with cerebral palsy and motor disorders.
"He shouldn't be here, we were told multiple times to say our goodbyes to him as a baby and that he wasn't going to make it, but he is here and he's our little miracle," his mother said.
Oisín was in Boston receiving intensive three-week physiotherapy, occupational therapy and feeding therapy.
"We were there for a three-week programme and you're obviously there for the treatment so practically all of your time is spent in the centre," she said.
"You don't have time to sightsee or really get to see anything at all of the city, so this was one of the few things we got to do together as a family.
"His face just lit up when he saw the officers come out and meet him, they were so lovely and treated him with such kindness."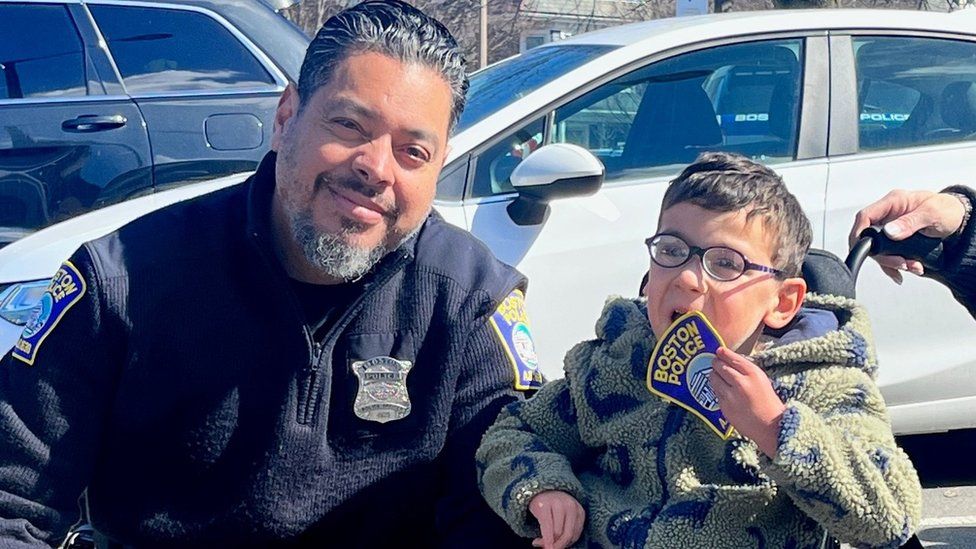 Oisín was given his very own police patch and posed for photos with officer Edwin DeJesus
Oisín and his two-year-old sister, Naoise, posed for photographs with officers, got to hear the siren on the squad car and got to ask them a lot of questions about their jobs.
The pair were initially only going to meet two officers, but more and more kept showing up to meet and chat with Oisín.
"A lot of the officers had Irish connections, being from Boston, so they were very interested in finding out where we were from and couldn't be more generous with their time," his mum said.
"Oisín would have previously been quite uncomfortable being around new people since Covid, but his smile wouldn't leave his face when they were chatting with him."
The encounter even featured on Boston's 7 News.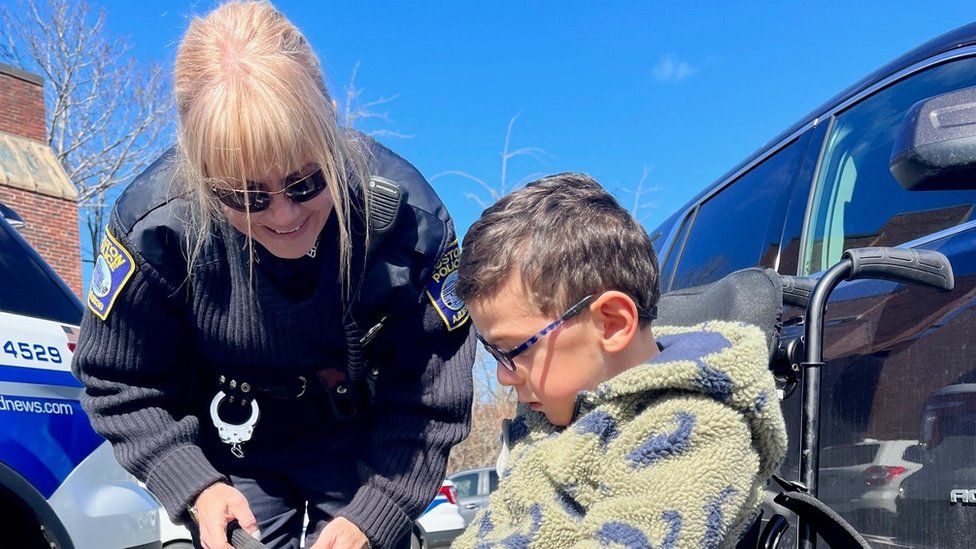 Officer Christine Melia Marini pictured meeting Oisín in Boston
Ms Traynor said the surprise meet-up was organised through a mutual friend who knew a serving police officer connected to the O'Shea Chaplin Academy of Irish Dance in the city.
Officer Christine Melia Marini told BBC News NI "meeting the officers was meant as a surprise to lift Oisín's spirits, but the reality is, he lifted ours".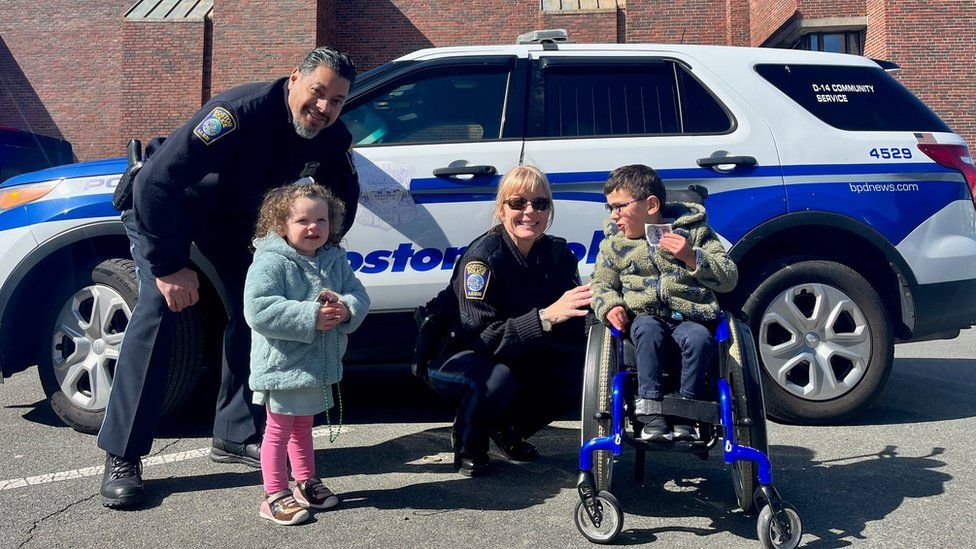 Oisín and Naoise Traynor made it on to Boston's 7 News
"It was such a pleasure for us to meet him and his family and seeing his smile when we sounded the siren on the cruiser was icing on the cake," she said.
"He is a strong boy and hearing his family talk about how much progress he makes when he comes to Boston for medical care reinforced how fortunate we are to live here.
"We hope to see more of Oisín when he returns."
From BBC