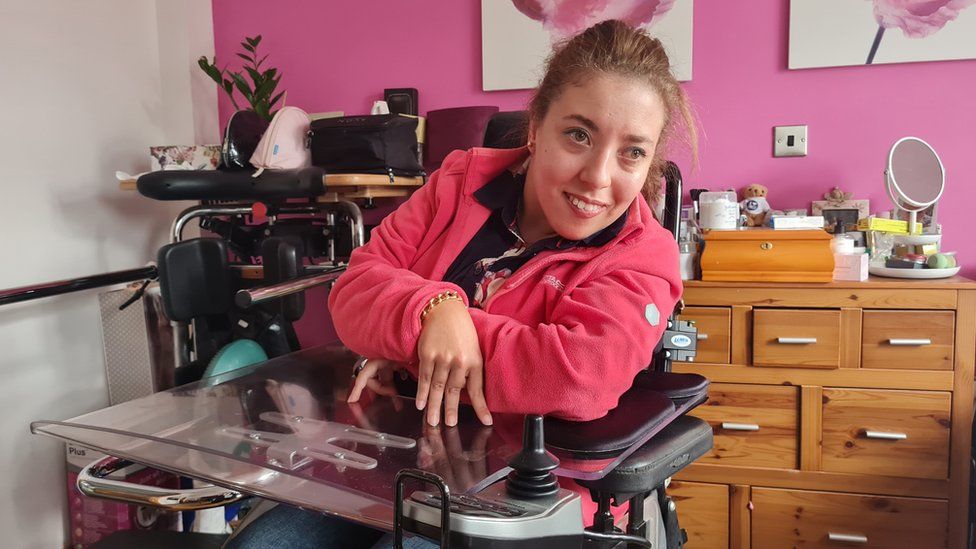 Shahd Zorob has had problems recruiting PAs and said doing so was "demeaning"
Disabled people are being shut out of society because of a lack of personal assistants, it has been claimed.
Disability Wales said many people with disabilities were being left without the support needed to live as independently as possible.
Shahd Zorob, who has cerebral palsy, has had problems recruiting PAs and said the problem was "demeaning".
The Welsh government said it was investing £70m into the pay of social care workers, including PAs.
PAs are usually employed directly by the person who needs them but paid for by the council.
Ms Zorob, from Cwmffrwd, Carmarthenshire, employs two of them to help her with personal care, appointments and campaigning.
She said she advertised for new assistants three years ago, but no-one applied.
The 30-year-old said PAs should be paid more so disabled people can get the required support.
She said: "The money isn't as much as similar jobs in the NHS, so how do you expect people to live?"
Ms Zorob said she has to rely on her mum to help her if a PA isn't available.
She said the pandemic was a particularly difficult time and the situation was "really hard".
"I wish I could help out and do things but it's really difficult.
"I am a 30-year-old woman and I am very active. I've got my own life. I do a lot of online events and I'm part of so many groups.
"I'm one of hundreds with cerebral palsy in Wales and we have been missed all our lives. We don't seem to exist."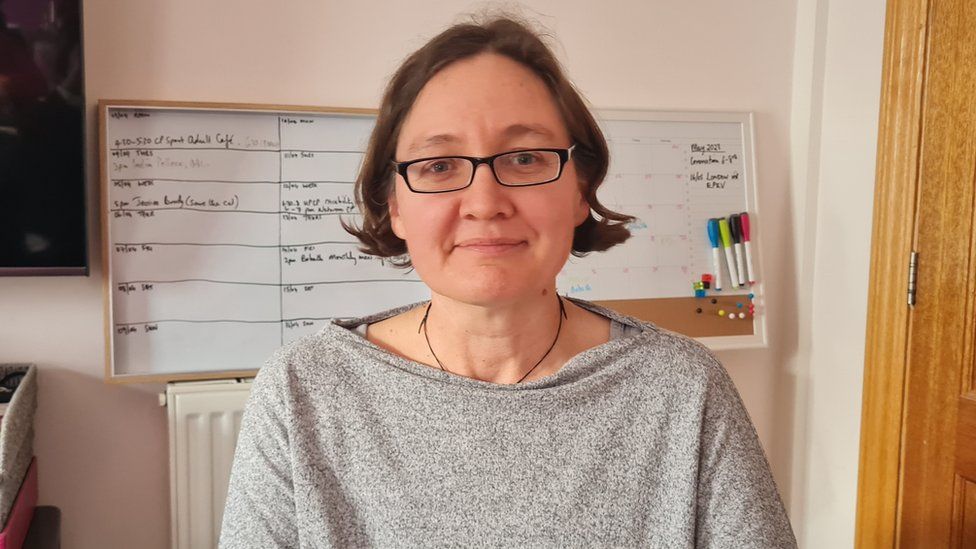 PA Sian Barlow said the work was not easy but she enjoyed it
Sian Barlow is one of Ms Zorob's PAs. She said she loves working with her, but that the work is not easy.
"It's really rewarding but the pay is pretty terrible across the country," she said.
"The pay reflects the value we all put on it. We don't value the work so the money does not follow."
Jane Tremlett, cabinet member for health and social services at Carmarthenshire council said local authorities are "experiencing unprecedented challenges with recruitment across the social care sector".
She added: "We are working with colleagues locally, regionally and nationally to improve upon this position. Examples of this are innovative recruitment campaigns and developing career progression pathways to attract more people into the sector."
Disability Wales' disability equality officer, Alex Osborne, said the consequences of too few PAs could be dire.
"In the best case scenario people aren't able to do as many things," she said.
"But for some disabled people, they're stuck in bed.
"We've heard of people being left for hours in their bed and even having soiled themselves because a PA hasn't turned up."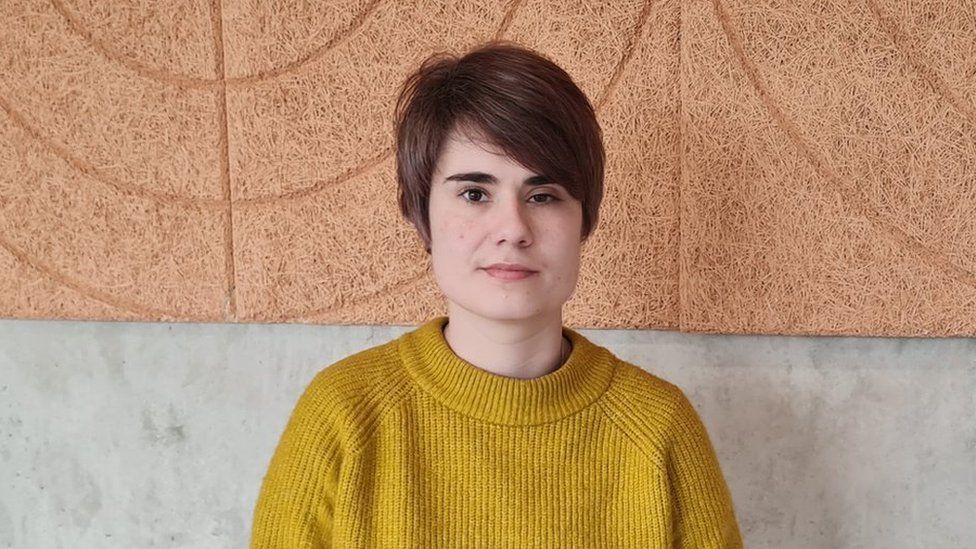 Alex Osborne said the consequences of too few PAs could be dire
Ms Osborne said people were having to fight for direct payments that they were entitled to.
"People get a lot more lonely if they can't go out and meet people," Ms Osborne said.
"We've seen disabled people being quite worried or put off applying for work.
"They're feeling stuck in their homes and excluded. Disabled people have always had to fight for direct payments to pay for support to access leisure activities. It's a hard fight."
Dewis Centre for Independent Living supports people to employ PAs through direct payments.
Direct payments manager for Rhondda Cynon Taf, Cardiff and Vale of Glamorgan, Greg Davies, said the vacancy rate was the highest in 15 years.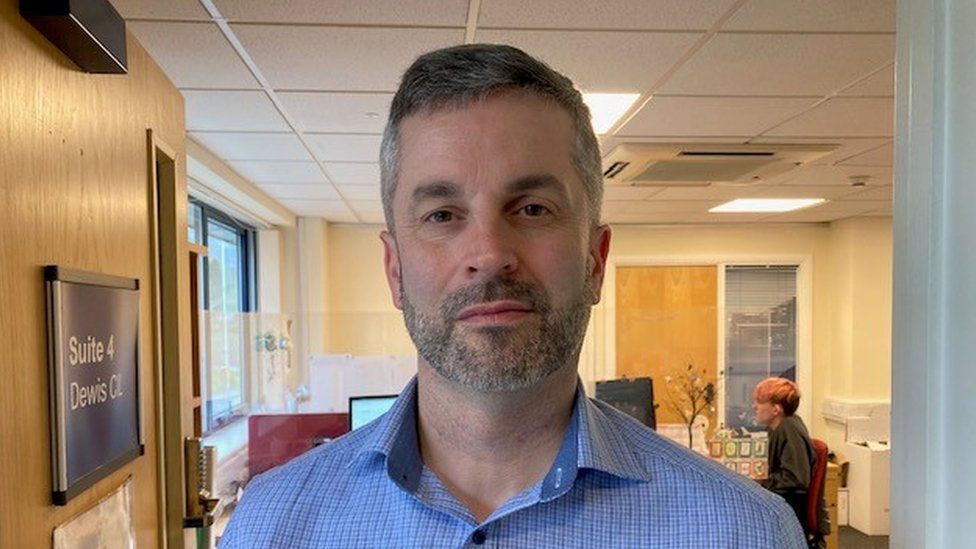 Greg Davies had not seen the PA vacancy rate as high in 15 years
The charity supports 1,670 disabled people who employ around 3,200 PAs - but they are still short of assistants by 280.
"Social care is having to compete with retail and hospitality," he said.
The Welsh Local Government Association (WLGA) said its research showed PA workforce challenges were "one of the most significant ongoing risks in social care".
A spokesman said: "There remains a need to prioritise and invest in social care and the workforce to ensure that we have a workforce who are truly valued, have parity of esteem with NHS workers, and are appropriately rewarded."
The Welsh government said in 2023 it was investing £70m to ensure social care workers, including PAs, were paid at least the real living wage.
A spokesman said: "We're taking steps to professionalise the sector, improve the status of social care as a valued career, and ensure there are more opportunities for career progression."
From BBC