A man has been found guilty of gross negligence manslaughter after his daughter was found dead in "squalor".
Sixteen-year-old Kaylea Titford, who had spina bifida and was morbidly obese, had been confined to her bed in the months before her death in "degrading" and "inhumane" conditions.
Alun Titford, 45, from Newtown, Powys, was warned to expect prison time as he was convicted at Mold Crown Court.
Kaylea's mother Sarah Lloyd-Jones, 40, previously admitted the same charge.
Titford was granted bail and will be sentenced alongside Lloyd-Jones at Swansea Crown Court on 1 March.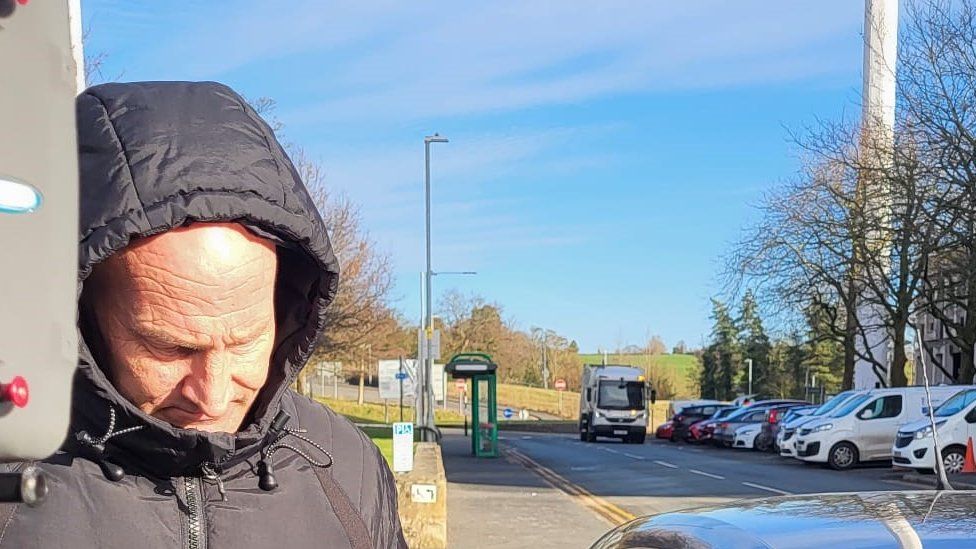 Alun Titford was granted bail after Tuesday's hearing
"There can be no doubt this case passes the custody threshold," the judge, Mr Justice Griffiths, told Titford.
The judge gave the jury of eight men and four women, who took seven hours and 10 minutes to reach a unanimous verdict, a 10-year exemption from jury service.
"The subject matter was, no doubt, unusually distressing," he told jurors.
Titford did not react as the verdict was read.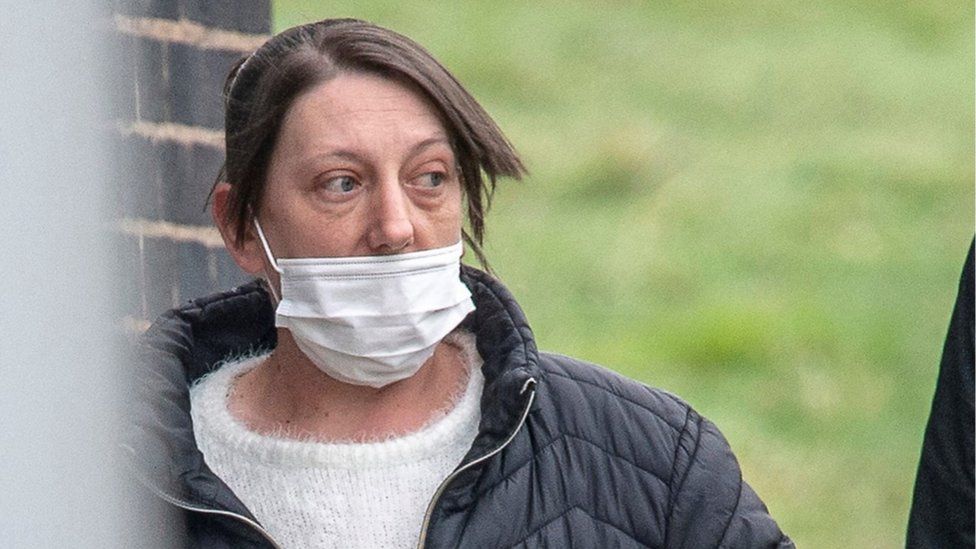 Kaylea's mother Sarah Lloyd-Jones will also be sentenced on 1 March
Kaylea weighed almost 23st (146 kg) and had a body mass index of 70 when she died.
She was found in conditions described as "unfit for any animal", in soiled clothing and bed linen, following her death at the family home in Newtown in October 2020.
The trial heard she had been restricted to her bed for more than six months - since the start of the UK's Covid lockdown - when she died.
The court heard Kaylea had attended Newtown High School, where she was described as "funny and chatty" by staff, but did not return following the coronavirus lockdown in March 2020.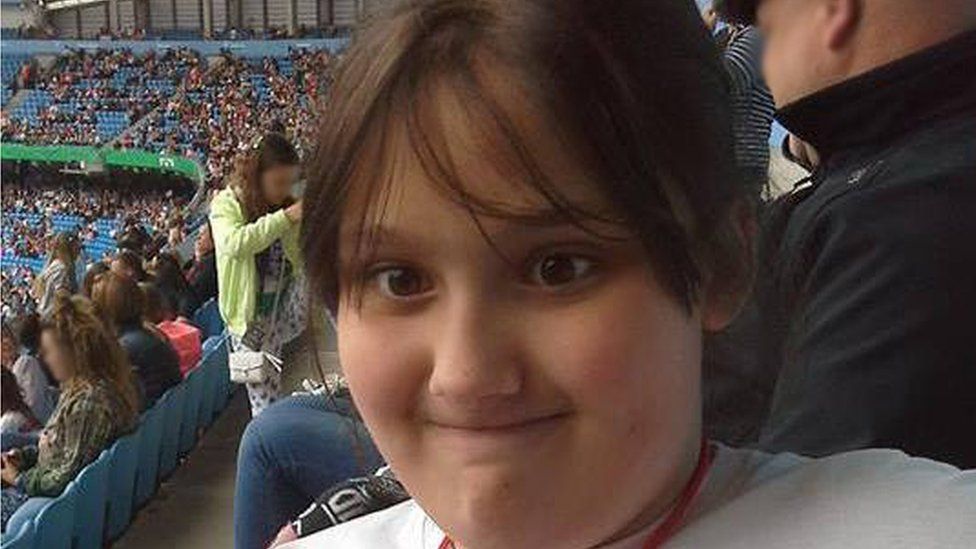 Kaylea Titford liked sport and enjoyed playing wheelchair basketball and wheelchair tennis
Titford, who had six children with Lloyd-Jones, said the family would order takeaways four or five nights a week and he thought Kaylea had put on two to three stone (13-19kg) since March.
Emergency service workers, who were called to the house on 10 October, described feeling sick due to a "rotting" smell in her room.
Following her death, maggots were found which were thought to have been feeding on her body, the jury was told.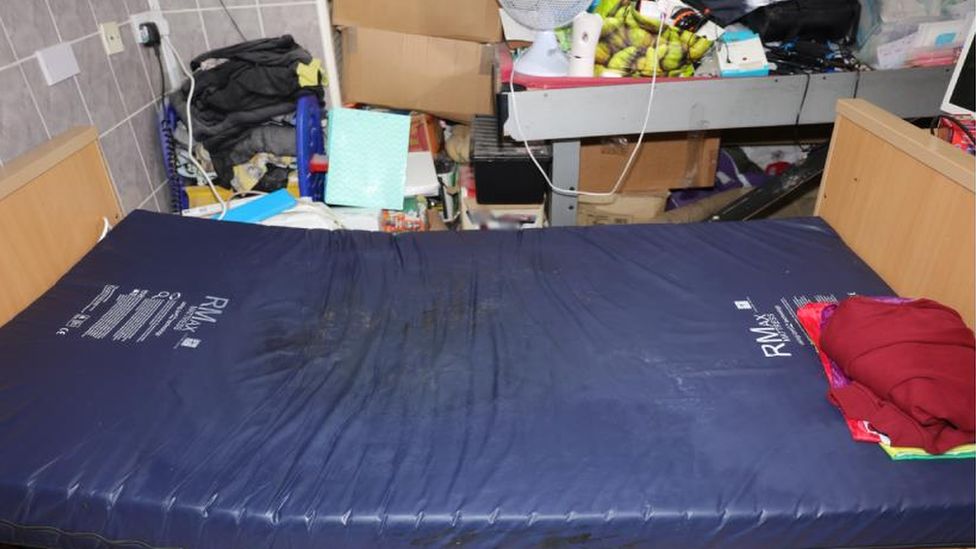 Kaylea's bedroom was dirty and cluttered
The court heard her bedsheets were soiled and she was lying on a number of puppy toilet training pads.
Her room was dirty and cluttered with bottles of urine and a deep fat fryer with drips of fat down the side, as well as a full cake in a box, the trial heard.
A spokesman for Powys County Council said a child practice review would be carried out by the local authority and involve all relevant agencies following a clear statutory framework.
Wales' former children's commissioner Sally Holland said the "appalling circumstances" in which Kaylea died made this one of the "most horrifying cases" she had come across in more than 25 years in children's services.
"The review will look at were there missed opportunities to speak to Kaylea directly," said Prof Holland.
Dyfed-Powys Police said the conditions in which Kaylea were found were "abhorrent, and indicated shocking neglect over a prolonged period of time".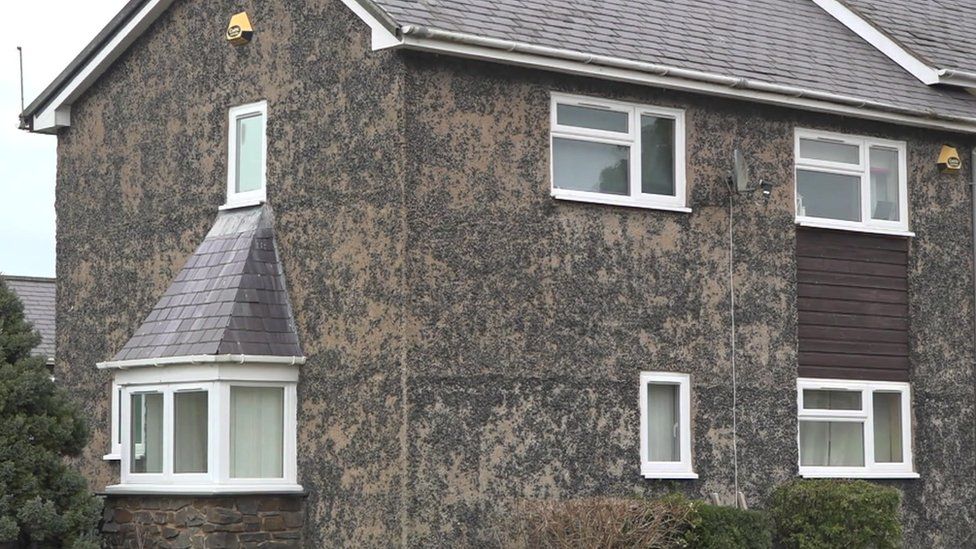 Kaylea had been restricted to her bed for more than six months since the start of the UK's Covid lockdown when she died
"The circumstances of Kaylea's death were tragic, and her parents will have to live with the part they played in that for the rest of their lives," Det Ch Insp Jonathon Rees said.
NSPCC Cymru said young people with disabilities were three times more at risk of abuse.
Assistant director Tracey Holdsworth said: "No child should be subjected to the horrific treatment Kaylea Titford was prior to her tragic death.
"The conscious, prolonged neglect by those who should have cared for her is incredibly distressing."
She said a safeguarding review must leave "no stone unturned".
From BBC