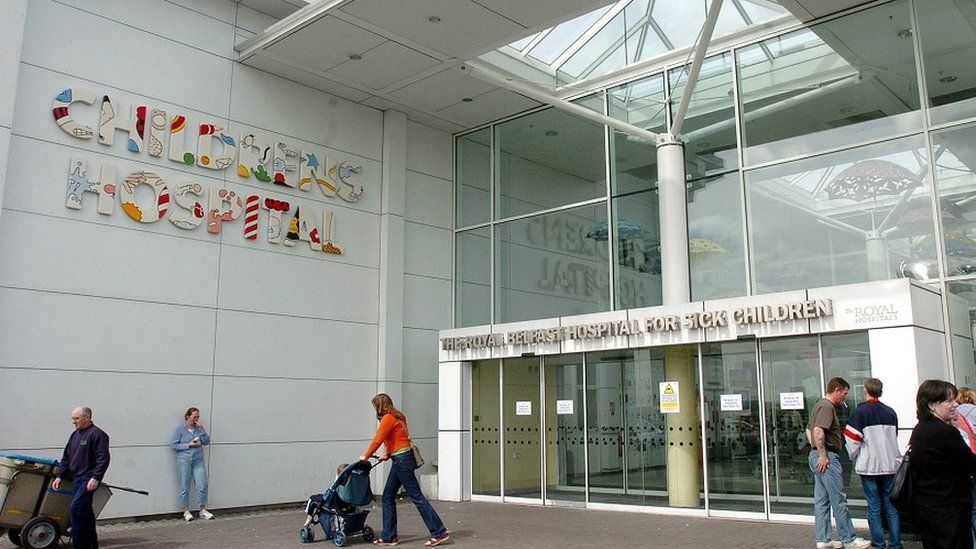 Almost 40 procedures at the hospital were postponed between September and October
All non-emergency planned surgery has been postponed at the Royal Belfast Hospital for Sick Children.
Between 28 September and 28 October, BBC News NI can reveal, 38 procedures in ENT (ear, nose and throat), orthopaedics, dental and plastic surgery were postponed.
The Belfast Health Trust has apologised.
In a statement, the trust said this had "relieved some pressures within the paediatric service".
It added that it appreciated "how difficult this is for families and children who had operations scheduled".
The trust also apologised to seven year-old Abigail Reaney, from County Armagh, whose gallbladder operation was cancelled on short notice on Sunday.
Media caption,
Abigail Reaney has spent most of her life on waiting lists
Abigail's father, Stephen, told BBC News NI that despite the ambulance being dispatched to pick up his daughter, who has severe medical conditions, they received a call saying her operation had been cancelled.
He said the reason given was that the bed assigned for his daughter was required for someone else.
Mr Reaney said life on waiting lists was a "living hell".


A young life on waiting lists
Abigail Reaney, who has bulbar palsy, epilepsy, dystonia and severe respiratory disorder, has spent most of her life on waiting lists.
Her father, Stephen Reaney, said she has been on waiting lists for various procedures for differing lengths of time.
Sunday's procedure was "cancelled at the last minute" after a six-month wait, he said.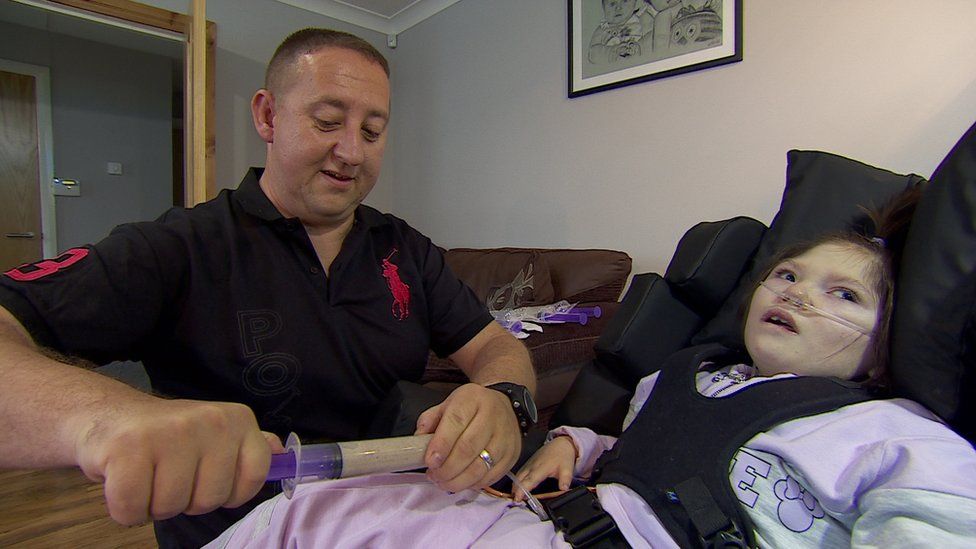 Stephen Reaney said he is forced to "chase" consultations for his daughter Abigail

"Ambulance transport was set up and it was less than five minutes away from the house," he said.
"No niceties about it, just phoned up, 'your bed's been taken, it's cancelled'. It's frustrating and not good enough."
Mr Reaney said Abigail is in severe pain and on heavy medication to relieve it, which leaves her "sleeping 90% of her life".
"It's a lot of stress that the family don't need because looking after Abigail is stressful enough, but you've the added pressure of chasing consultants and trying to fight to get her on waiting lists and then to get off them - it's just been a living hell," he added.


According to the trust all patients and families affected have been notified of their postponement by phone and will be offered a rescheduled date as soon as possible.
It comes as a review found more children in Northern Ireland are waiting to see a consultant for the first time.
The trust has said it is experiencing "very significant pressures and on at least one day in the last month there were approximately 200 children brought" to the children's hospital - a number, it said, that was double the average number of attendances pre-pandemic.
The health trust has also developed a new online symptom checker on the Belfast Trust website which could help parents decide whether they need to bring their children to hospital.
It has also emerged that some elective or planned orthopaedic surgery has been postponed in the Southern Health Trust. At this stage no other health trust is affected.
Child health waiting lists have revealed that in the past 12 months, there has been an 184% increase in children waiting more than four years.
The Department of Health said it welcomed the focus on waiting times.
Waiting times have also grown in other services for children, including mental health, speech and language therapy, and autism assessments.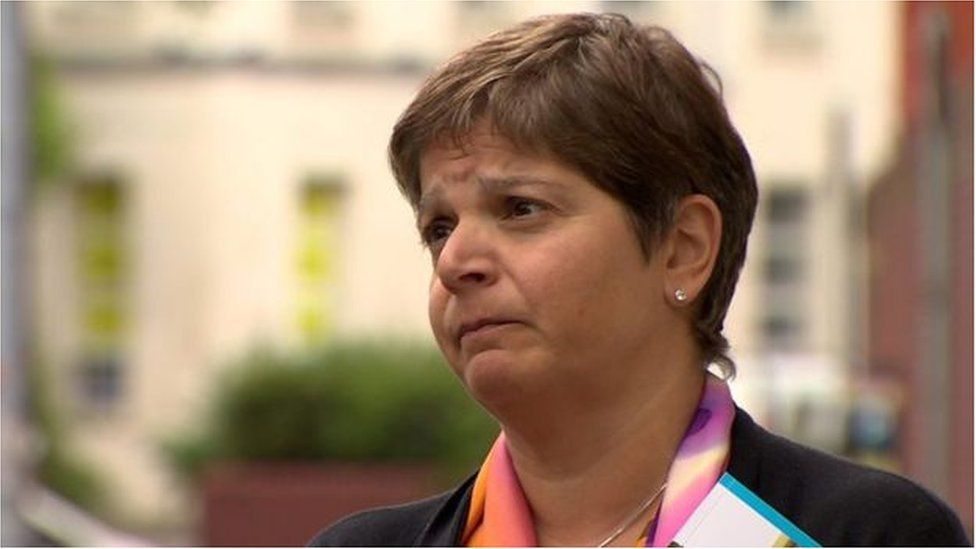 Koulla Yiasouma said there was a historical lack of focus given to children's health services

This latest review by the commissioner for children and young people is an update on a report titled More than a Number - A Rights Based Review of Child Health Waiting Lists, which was published in 2021.
Since the last review, an additional 900 children are waiting to see a consultant for the first time.
Children's commissioner Koulla Yiasouma told BBC News NI the situation was "alarming".
She said the increased waiting lists were "unacceptable" and proof that the health minister should have done more for children's services.
"Parents' hearts are breaking as they watch their children missing out on a vital part of childhood while they struggle to manage health conditions," she added.
Additional theatre space requested
Waiting lists for ear, nose and throat conditions are among the longest.
Almost 10,000 children are waiting for a consultant-led outpatient appointment and more than 4,000 for a procedure or surgery.
The Department of Health (DoH) said it accepted waiting times were not acceptable prior to Covid-19 and that they had been exacerbated by the devastating impact of the pandemic across all aspects of service provision, including children's services.
In order to tackle the waiting lists, BBC News NI can reveal that each health trust has been asked to provide additional theatre space.
That means paediatric surgeons, who normally work from the Royal Belfast Hospital for Sick Children, will travel to other hospitals to carry out children's surgery including the Western Trust's Altnagelvin and South West Acute Hospital.
The DoH added that it has been working with trusts to ensure that commissioned paediatric day case procedure theatre lists for general surgery were re-established as a priority.
Trusts without commissioned paediatric lists have been asked to prioritise two paediatric day case procedure lists per month.
As a results of the new lists, the department said the "Western Trust is expecting that the paediatric general surgery day procedure waiting lists can be cleared by the end of the year".
"This will allow the trust to provide support across the region ensuring that children have a shorter wait for day case general surgery," it added.
From BBC