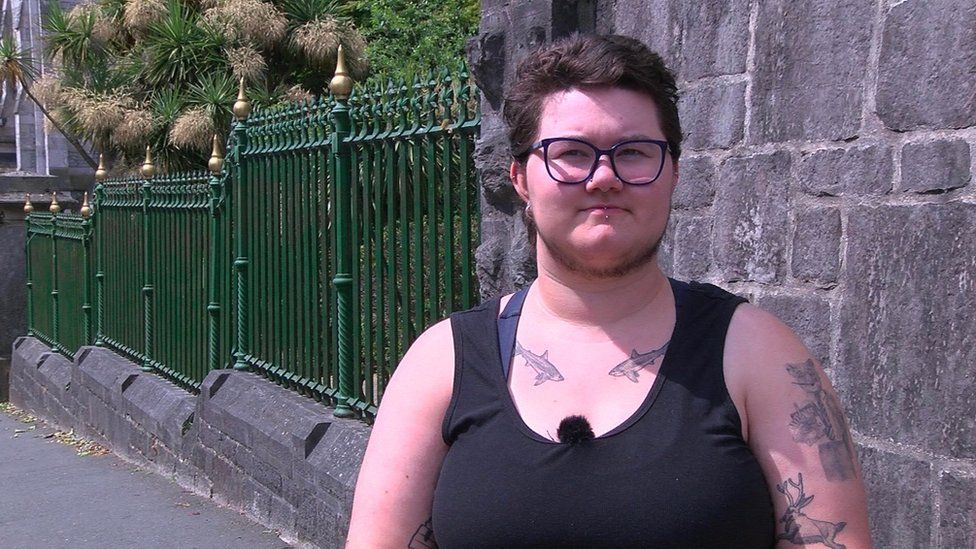 Jude Costello said he wanted more accessibility on campus
A student at the University of Plymouth is calling for more accessibility on campus.
Jude Costello, a wheelchair user, said he was denied access to the campus while the university's summer ball was being set up earlier this month.
Mr Costello, 20, said it made him feel "alienated" and "not accepted" as a student.
A spokesperson for the University of Plymouth apologised and said an investigation had begun into the issue.
The marine biology student said he also attended a boat party as part of his course, but a ramp was not available for him to access the boat.
He said: "Even aside from the fact it makes getting an education here more difficult, being unable to access classrooms and lectures and things like that, it just makes me feel very alienated."
Mr Costello, who has chronic pain, fibromyalgia and hypermobility, said he hoped the university could improve accessibility for its students.
He said: "I have to put in so much more work than my able-bodied peers in order to do the things that they do. I don't get recognised for it, I don't get that much support for it. It's exhausting.
"It makes me feel like I'm not accepted as a student here, that I'm a burden to my friends and peers."
The university spokesperson said: "Everyone at the university wants students to have a great experience here, and we're keen to work with Jude to further understand how we can best meet his needs and resolve these issues."
Amelia McLoughlin, the network director for Disabled Students UK, said anecdotally this was an issue across the country.
She said: "It's sad we continue to hear these same stories across the sector. We would say to be fair on individual institutions as well it's quite widespread from the information we have."
She added: "It needs leadership, funding and an acknowledgement that this is happening in the sector."
From BBC