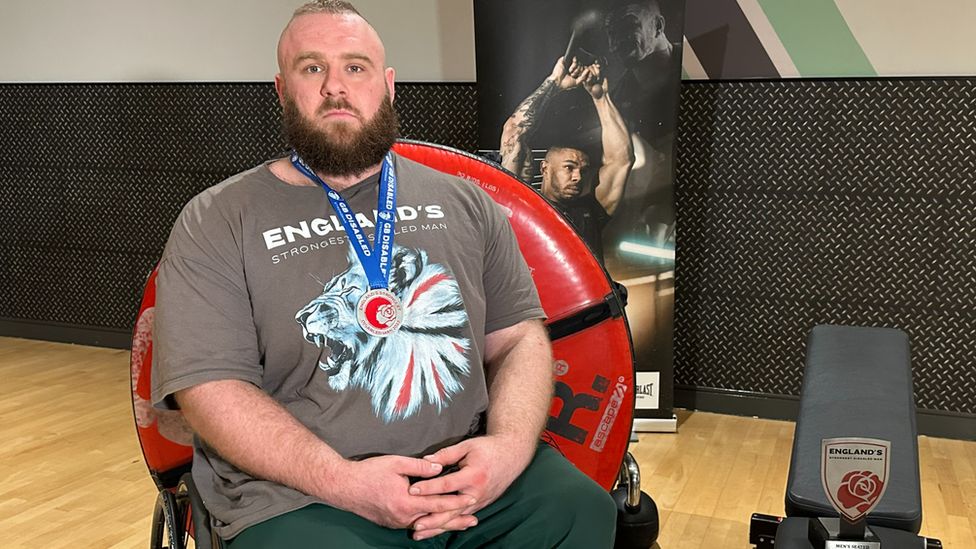 Matthew "Panda" Smyth said powerlifting made him "proud of being disabled"
A competitor for the title of Britain's Strongest Disabled Man finished third despite dislocating his shoulders halfway through the event.
England champion Matthew "Panda" Smyth was injured during a 200kg (441lb) weight lift.
However, he said he still managed to complete the final two events on Sunday against medical advice.
Mr Smyth, from Poole, Dorset, said it had motivated him to come back next year "bigger and better".
He said: "One of the events was a trap bar hold so it's holding a weight for as long as you can.
"My hands weren't in the correct position so when I picked up the weight my shoulders just went forwards, out, down - felt like they went upside down."
He said he dropped the 200kg weight after about 20 seconds.
Mr Smyth, also known as Matthew Chandler, said: "Mentally I feel good, I've got the powerlifting British championships this weekend so I'm just gearing up for that."
In May he won the title of England's Strongest Disabled Man, just two years after being spurred into training by a "bad lockdown", involving bouts of severe depression.
He said the sport had helped him to accept his disability, which involves a lack of hip or knee sockets.
He added: "It's ...massively increased my mental health just because I'm not anxious about it, I'm not ashamed by it, I'm proud of being disabled."
From BBC