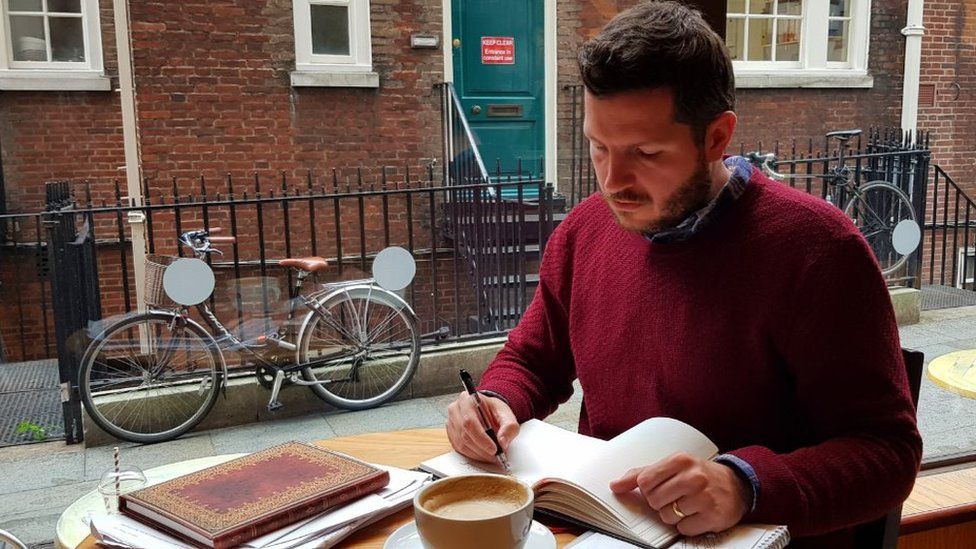 As a teenager, Thomas Leeds was hit by a car and lost his entire memory. Twenty years on, having learned to read and write again, his children's adventure book has been published to much hype and a 10-way fight for the rights.
A lot has happened since then.
Every day during his recovery, Thomas would open a newspaper. He would pore over it, desperate for the jumble of letters and words to make sense. He was 20 years old.
"Reading was a nightmare. Writing was a nightmare. I was doing what my now four-year-old is doing, which is trying to blend words together with each sound, like B-E-D," he told BBC Access All.
It was more than frustrating. From what people had told him about the boy he had been before the accident, he had been a reader. He was desperate to find that boy again.
Thomas's life took an extraordinary turn when he crossed a road in central London aged 19 and was hit by a taxi. The doctors initially thought he'd miraculously escaped serious injury but within days a blood clot was found on the brain and all his memories had disappeared.
He didn't remember his parents, or five siblings. He had no idea he had been about to go to university and had lost the ability to recognise peoples' faces. Scar tissue on his brain also led to epilepsy, something he still has today.
It is hard to imagine, but at the time, Thomas didn't understand what the fuss was about and describes feeling quite "content". Brain injury charity Headway says this is common following head trauma when the brain's chemical imbalance has been disrupted.
"I just felt vaguely confused," Thomas says. "And wonderstruck," when he discovered new things.
"I knew everything around me was weird, but I didn't know how weird I was."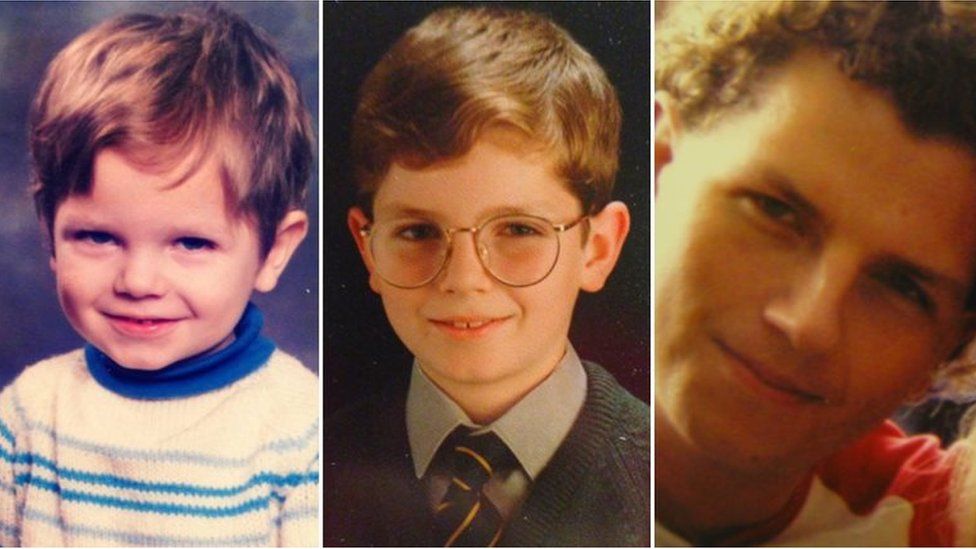 Throughout his 20s, Thomas focused on his recovery, always hoping his memory would resurface. He talked to people about what he used to be like, looked at photos and re-visited old haunts, but nothing emerged.
Then, on the eve of his 30th birthday, there was a breakthrough. Preparing a playlist for his 80s inspired party he flicked through the songs and The Whole of The Moon by The Waterboys sang out.
"You held it in your hands"
It triggered six flashbacks opening a window to his past.
"It was magical," Thomas says. "Just knowing that I've got something real from before, from the beginning of my story, really helped me face the future."
It set in motion the desire to write a series of books for nine to 12 year olds, the first of which is Jayben and The Golden Torch.
But it was a long slog for Thomas to learn to read and write again.
He started with picture books but "I couldn't keep track of anything," he says and struggled to remember the plots.
Thomas persevered and moved on to children's chapter books falling in love with fantasy and adventure stories set in alternate worlds which he felt were relatable.
"It was the easiest way for me to see myself," he says. "It sounds crazy, but when you've got memory problems, the real world is a mysterious, weird place."
From BBC