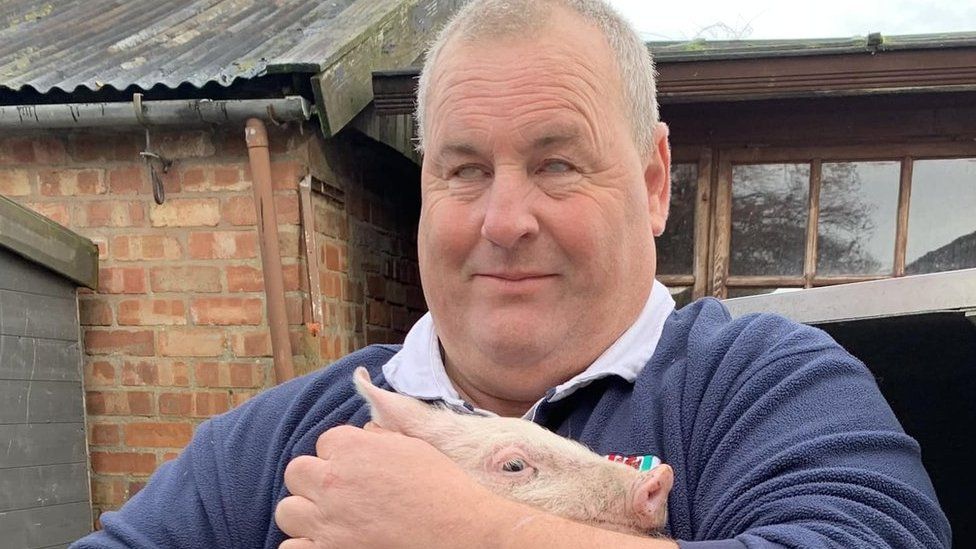 Mike Duxbury has created a working farm for disabled people
Mike Duxbury believes he is the only blind farmer in Britain, and for as long as he can remember has dreamt of creating a fully working farm for disabled people.
Mr Duxbury, 54, grew up on a farm and at the age of six lost his sight due to glaucoma. He went to agricultural college in 1986 and studied to become an animal nutritionist.
But he says that after applying for more than 500 consultancy jobs and not getting one interview he decided to give things a go himself - creating Inclusive Farm.
"A year ago the farm didn't exist", says Mr Duxbury of what was at that point a one acre patch of scrubland in Steppingley, near Flitwick, Bedfordshire.
Using Lego, he designed what the farm could look like and shared it with his partner, Ness.
The farm is now home to 32 pigs, 30 chickens, six sheep, five ducks and four geese.
Their first animal was a one-month-old goose which Mr Duxbury hand-reared and named Charlie - "she sits on my knee and has cuddles", he says.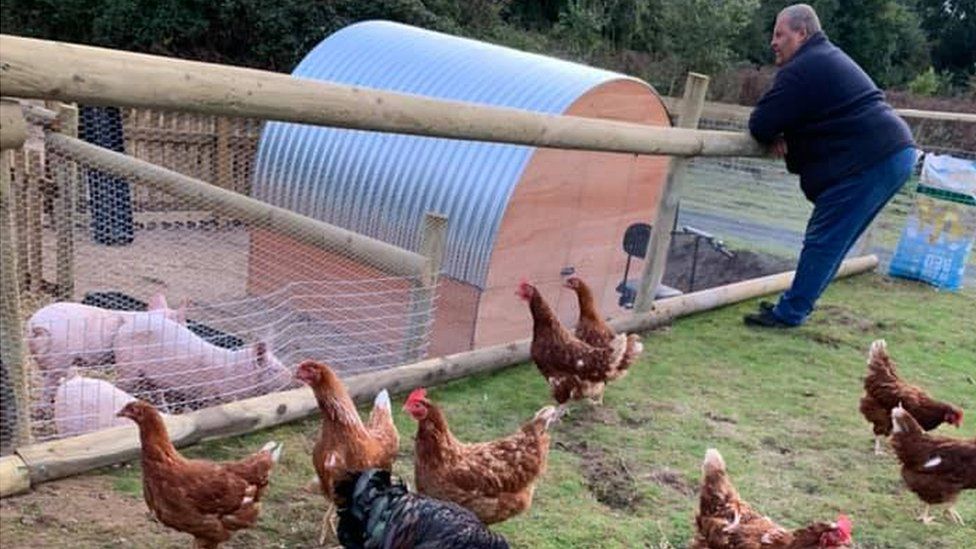 IMAGE SOURCE,MIKE DUXBURY
Image caption,
The farm produces eggs which are sold locally
The farm produces sausages, eggs and meat which are sold to a butcher who supplies local restaurants and pubs.
Mr Duxbury uses touch and sound to move around the farm.
"My hands are my eyes", he says, adding that he can feel "the shape, the size, the weight of an animal".
"Over years of experience when you touch an animal you can usually get a feel of when it is ready for market", he says.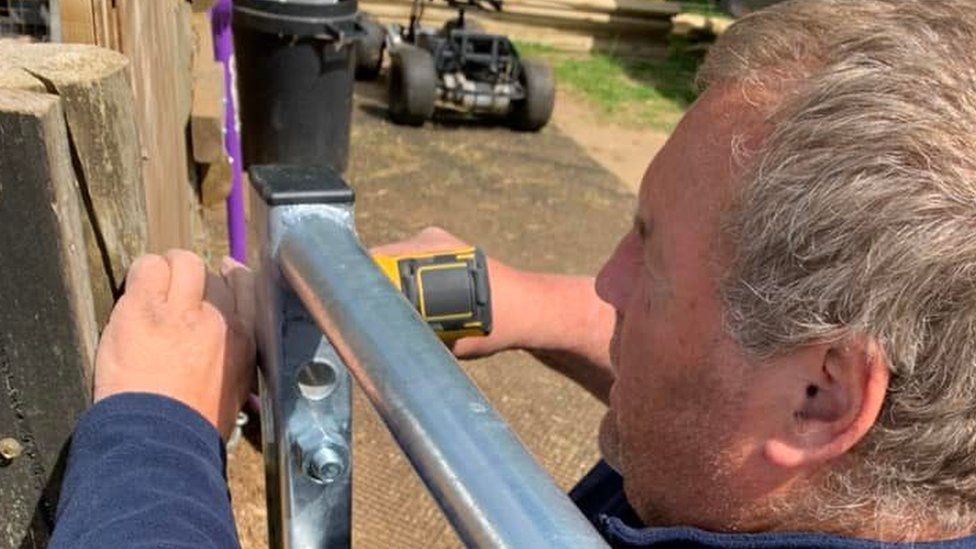 IMAGE SOURCE,MIKE DUXBURY
Image caption,
Mike Duxbury and his partner built the farm together
After years working on other farms, Mr Duxbury wanted to create a space which was fully accessible for people with disabilities to be able to do every job required.
"Farming for me has just been a passion", he says.
"I've always had a desire that everybody in this world deserves a chance and too many people who have disabilities are being left behind."
He wants to inspire other young people with disabilities to think about a career in farming.
Every week students from the inclusive learning department at Milton Keynes College studying animal and horticulture spend a day at Inclusive Farm.
"It's not just about disability, it's about thinking, it's about education, it's about how we accept other people", says Mr Duxbury.
"I can give my time and my knowledge as a farmer to help other people go through agriculture and learn what a wonderful life it can be," he says.
Students do daily tasks from worming sheep, weighing pigs for markets and mucking out.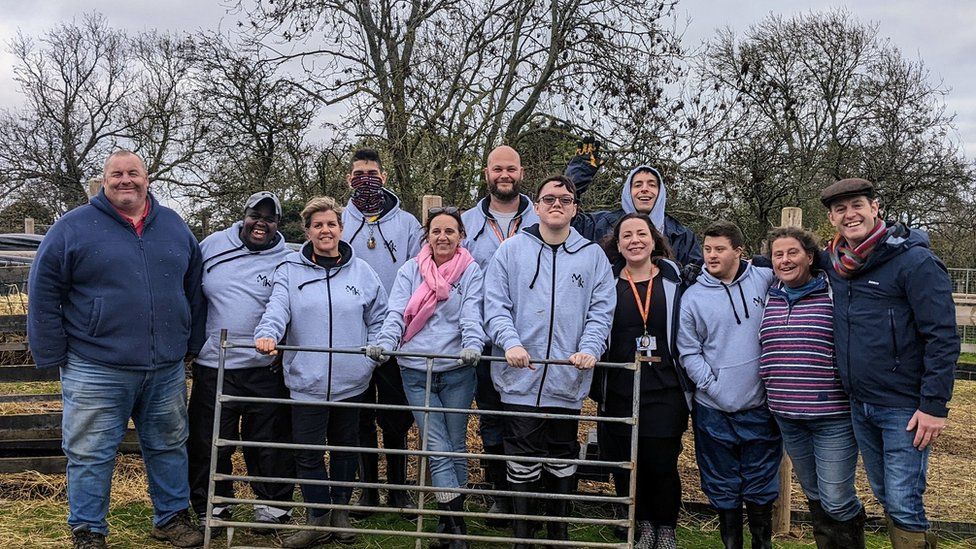 Milton Keynes College students featured in an episode of Countryfile
Becca Partridge, head of Inclusive Learning at MK College, says the students "love their placements at the Inclusive Farm.
"It's a crucial part of their course and it helps our learners to not only develop their knowledge of animal care and agriculture, but they also grow in confidence and learn about working as a team," she says.
Mr Duxbury says people from as far away as Canada, Mexico, Argentina and the United States have been in touch because what he has created has never been done before.
"The whole demand for what we're doing has just taken off," he says. "We've had a lot of interest from all over the world."
Mr Duxbury and his partner work full-time on the farm along with one volunteer and they are hoping to expand in future.
"We are a social enterprise that means business," he says.
"Everybody should be dealt with on an equal footing, everybody should be given opportunity, everybody should be given the chance to have hope."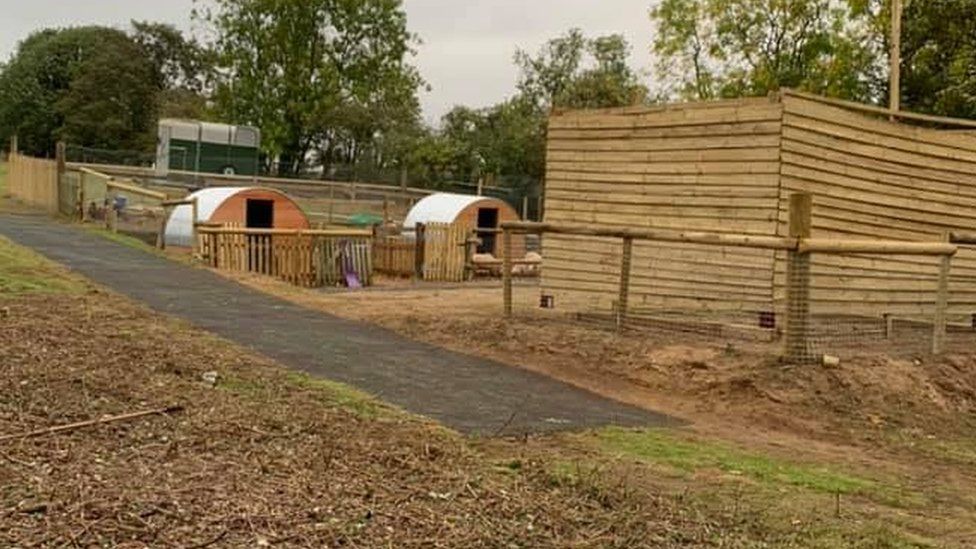 Inclusive Farm has been designed to be fully accessible
Looking back to life before Inclusive Farm, Mr Duxbury says he believes being overlooked for 500 jobs was "down to one thing".
"These companies state equal opportunities on their website and they don't stand by it," he says.
"I thought, you know something, I'll do it myself."
The government's Annual Population Survey found "disabled workers are least likely to be employed in agriculture, forestry and fishing, as were non-disabled workers (each less than 1%)".
The disability equality charity Scope says it has heard from disabled people who apply for hundreds of jobs but are continuously overlooked by employers.
"Others can only find a handful of jobs that are truly disability friendly", says Louise Rubin, head of policy at the charity.
"The disability employment gap - the difference between the rate of employment for disabled people compared to non-disabled people - has hardly improved in over a decade.
"When employers make their workplaces accessible and inclusive, more disabled employees can thrive and progress.
"Introducing measures such as remote working, flexible hours and tailored disability support can make all the difference for disabled employees."
From BBC