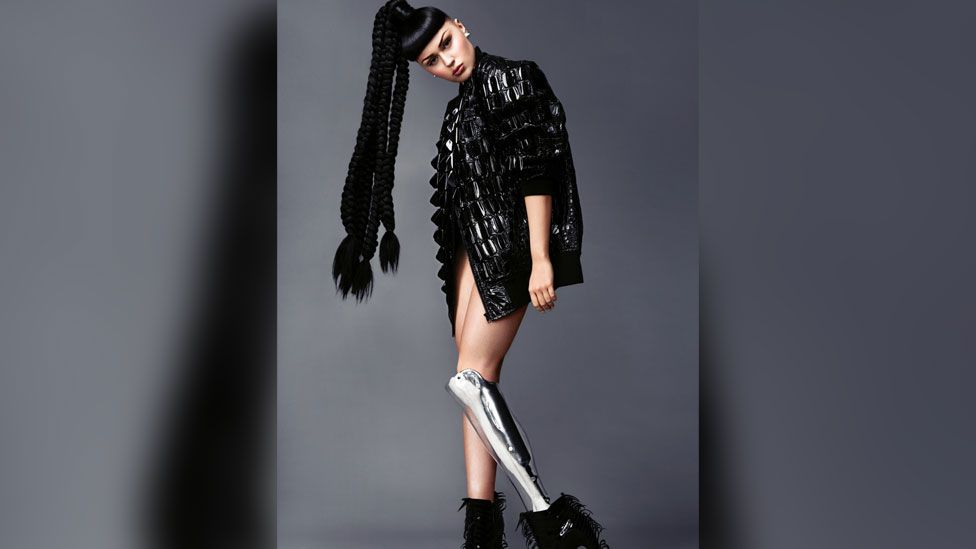 Viktoria Modesta wants to challenge the concept of disability
How would you visualise disability? Chances are, Viktoria Modesta wants you to imagine something different.
A self-described bionic pop artist, she uses technology to enhance her prosthetic leg in creative ways.
"If we start to challenge what it means to be normal, the concept of disability is challenged also," she says.
This weekend she is performing in Tokyo at a festival headlined by Katy Perry and featuring diverse artists from around the world.
British-Latvian Viktoria was injured at birth and chose to have her leg amputated in 2007 when she was 20 years old.
She's become known for her highly stylised prosthetics, which were seen in a collaboration with Channel 4 called Prototype.
After it attracted millions of views online Viktoria started to question how she could tell the story of alternative bodies and disability in pop culture.
"I never really identified as a person as disabled," she says, instead choosing to describe herself as bionic - a hybrid of biological and artificial materials.
"Language and storytelling is extremely important for how we see things."
Viktoria says her prosthetic has given her chances to explore new opportunities through emerging technologies.
She's experimented with prosthetic designs, the Metaverse and zero-gravity environments.
"Going into zero gravity, you don't really need to be fully 'intact'," she says.
And in the virtual reality Metaverse she's created a digital avatar of herself in a world she imagines as "fully accessible".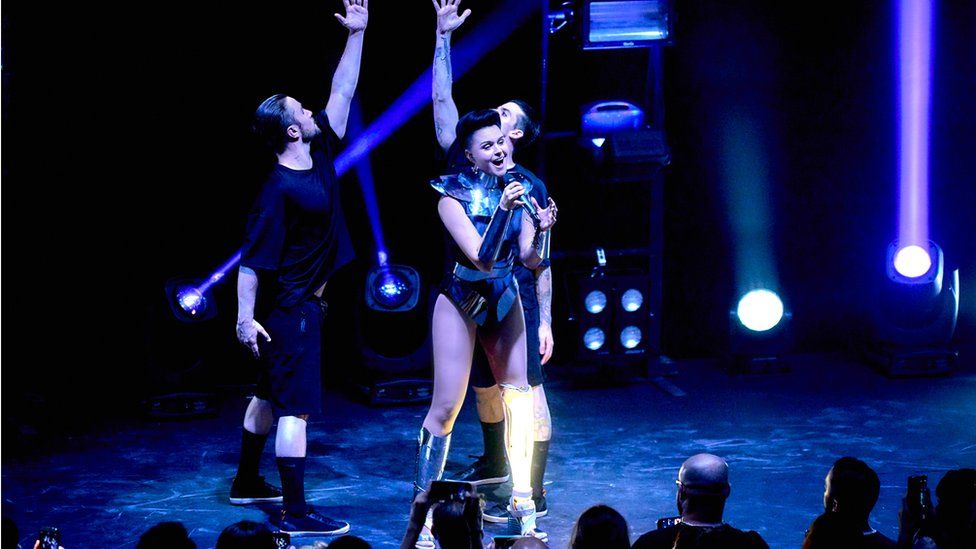 Viktoria says "de-medicalising" prosthetics and focussing on design will be "massive" for people with disabilities
"What does a post-disability world look like?" Viktoria wants to know.
For her, it's "where having a prosthetic or having some kind of contraption as part of your lifestyle is as accepted as reading glasses".
"We're in a really important time right now where we have to realise that there are many different shades of what it means to be an individual who has a physical difference that's part of their identity."
She's performing alongside Firework singer Katy Perry at the True Colours festival in Japan this weekend.
The shows will be livestreamed for free in what organisers are calling "a celebration of diversity".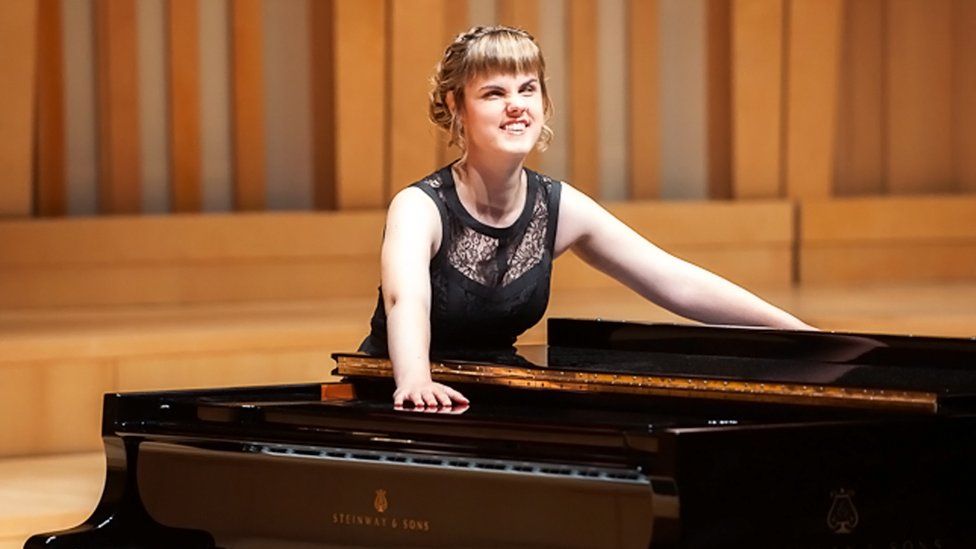 Rachel Starritt started learning to play the piano after a school assembly
Also performing is Rachel Starritt, from Bridgend in Wales.
She was born blind and started learning the piano at age six after hearing the instrument in a school assembly.
"I didn't realise what it was," she says. "It just sort of came to me like an embrace, and I fell in love with it."
Working with her teacher Alison Bowring, Rachel listens to different versions of music and learns the fingerings for each hand. She can also read music in Braille.
By performing in Tokyo, "I want to develop the sense of inspiration," Rachel says.
"Music is always very positive, it's a universal language. Music draws us together."
Rachel also has Asperger's syndrome - a condition she says has helped her to realise her talents.
"The Asperger's has really helped me focus as a musician because it's a mild autism condition that gives me an advantage, I suppose.
"I do struggle with like the organisation skills, but I can just practise until I got the result I want."
"I think being disabled shouldn't really be a barrier or an obstacle," says Rachel. "It's just a part of the person."
Rachel says she's "really excited" to play alongside Katy Perry for the show's finale.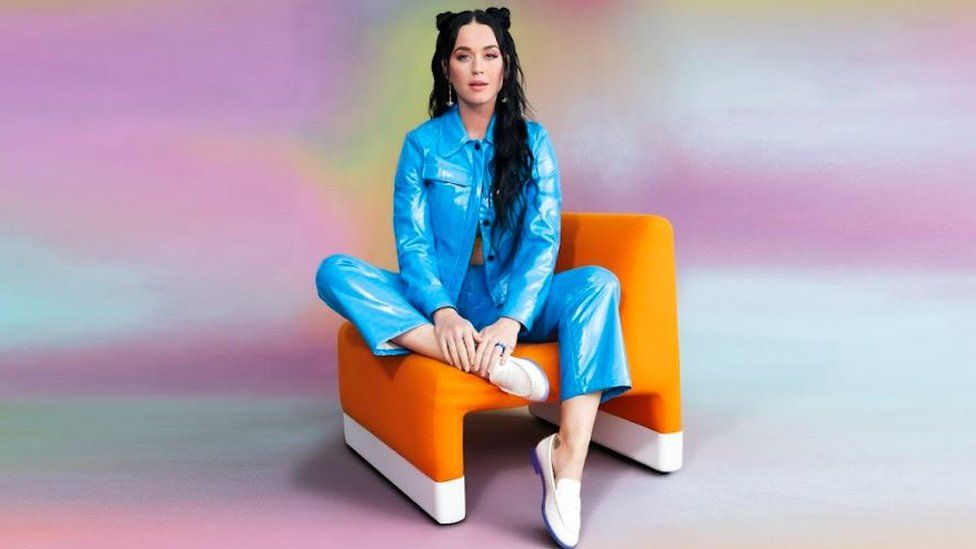 Roar singer Katy Perry headlined the festival at the weekend
Performing at the festival has given Rachel more confidence about the future of her career.
When she returns to the UK she plans to work performing for other people who don't have access to live music.
"It's a very important part for me, not only because there's diversity, working with people with disabilities, but also I'm learning how flexible my career can be," she says.
"It's allowing me to develop skills that I need to function professionally in a music career."
Viktoria also hopes the festival will send an important message about disability in the arts.
"Not just for people who are affected by limitations, or who feel like they can't enter the world of entertainment," she says.
"But also people who never imagined that people like myself could be entertainment."
From BBC