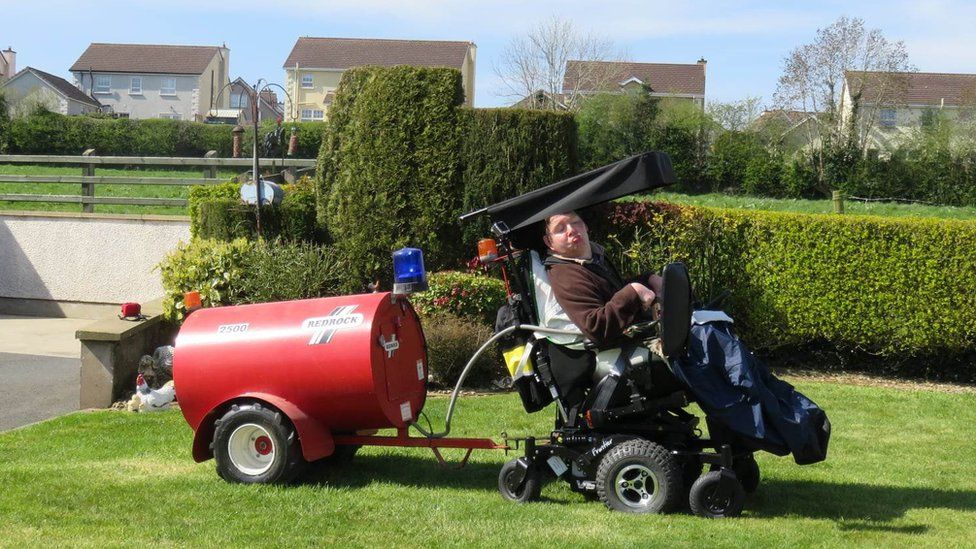 A specially-adapted wheelchair is allowing a man in County Tyrone to pursue his passion for farming.
Jonathan Turtle, who has cerebral palsy, uses a customised electric wheelchair with tow attachments to pull small farming machinery, transport hay bales and traverse uneven farmland.
Jonathan, who is non-verbal, lives on his family's dairy farm in Newmills.
The wheelchair "with all the bells and whistles" has been "life-changing for him", his family have said.
"Farming is a huge part of his identity," Jonathan's sister Glenda Turtle told BBC News NI.
"When he's farming he's in his happy place and the smile on his face when he's out in the fields just brings me so much happiness."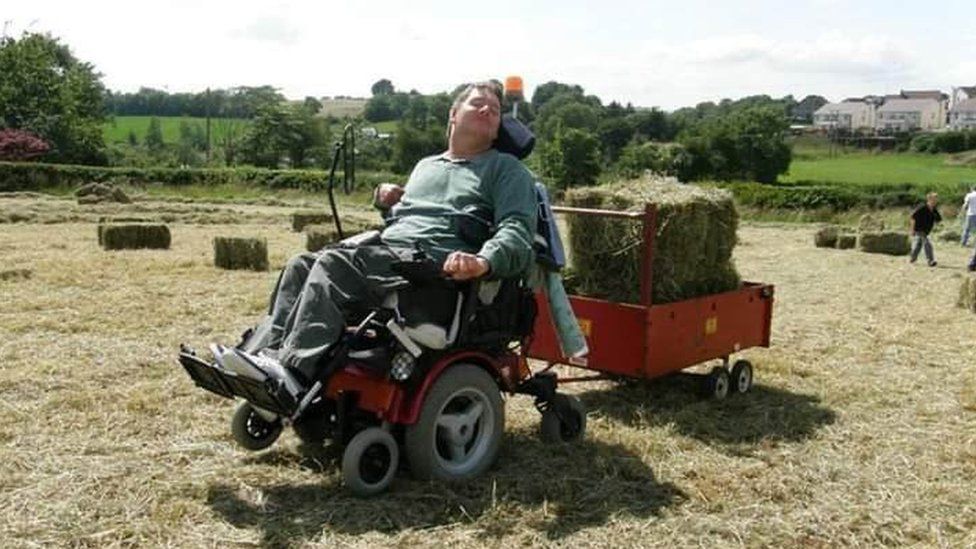 IMAGE SOURCE,GLENDA TURTLE
Image caption,
Jonathan can transport hay bales by using his wheelchair and a trailer
The family have operated their dairy farm in the rural village of Newmills, just outside of Dungannon, for more than 40 years.
Glenda said it was incredibly important that everyone in the family should feel included in its upkeep and day-to-day running.
'Family-run means all the family'
"The ability for him to go out on the farm on a daily basis is just so vital for him and has been so beneficial in terms of his mental health," she said.
"As a child with a disability there were so many things open to Jonathan for him to do, so many clubs etc.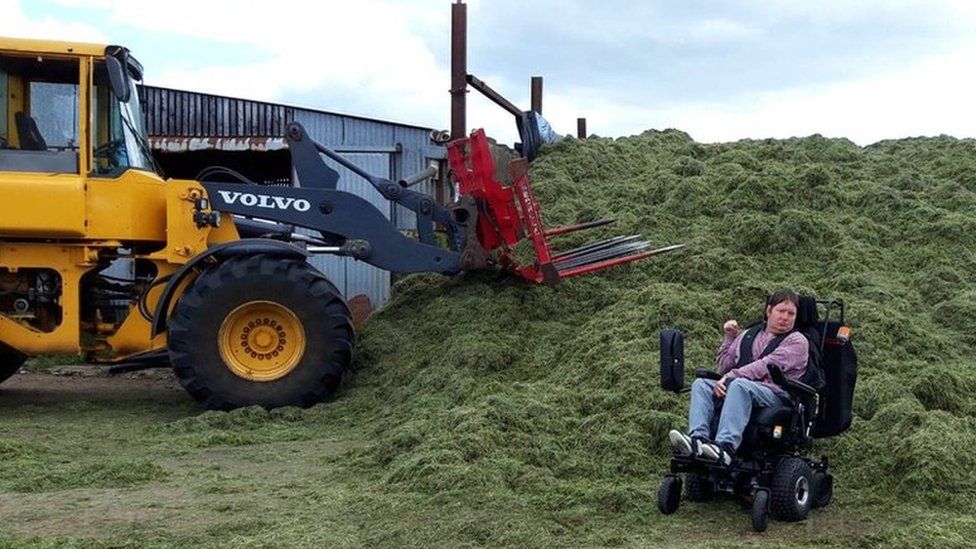 Jonathan's wheelchair allows him to move around the family farm
"But I suppose like anything, when you get older, there are less things out there.
"So when we realised he had a interest in farming we wanted to do everything we could to make sure that he could do that."
One of Jonathan's favourite pastimes on the farm is helping to direct the tractor drivers as they unload silage.
Using customised table tennis bats - green side for go, red side for stop - Jonathan helps direct the tractor drivers with pinpoint precision.
As well as being a huge help to the drivers, Jonathan can also be found carrying feed down to the cattle in one of his many trailers.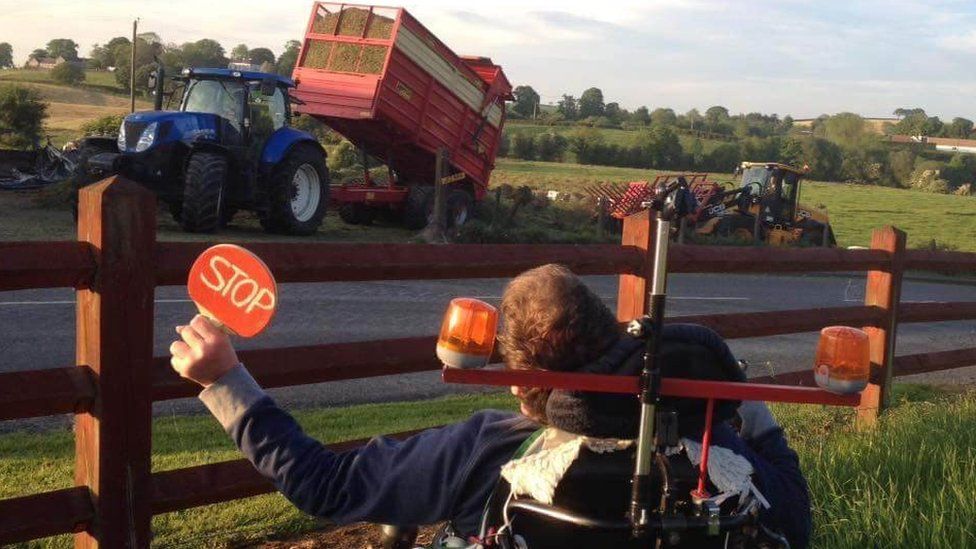 Jonathan uses table tennis bats to directs his brother Alistair when he is unloading silage
He also drives behind the herd when they are being transferred to a new field to ensure that no stragglers are left behind, his sister explained.
"He's been around the cattle for so long now over the years that he knows them and more importantly they also know him," she said.
"They're more than happy for him to be tootling along behind them in his chair."
Glenda said Jonathan struggled with moving around the farm freely in his previous wheelchair and was limited to where he was able to venture outside.
Family, friends and the community in their village pulled together to upgrade his wheelchair in 2019 and the farming attachments have steadily built up over the years.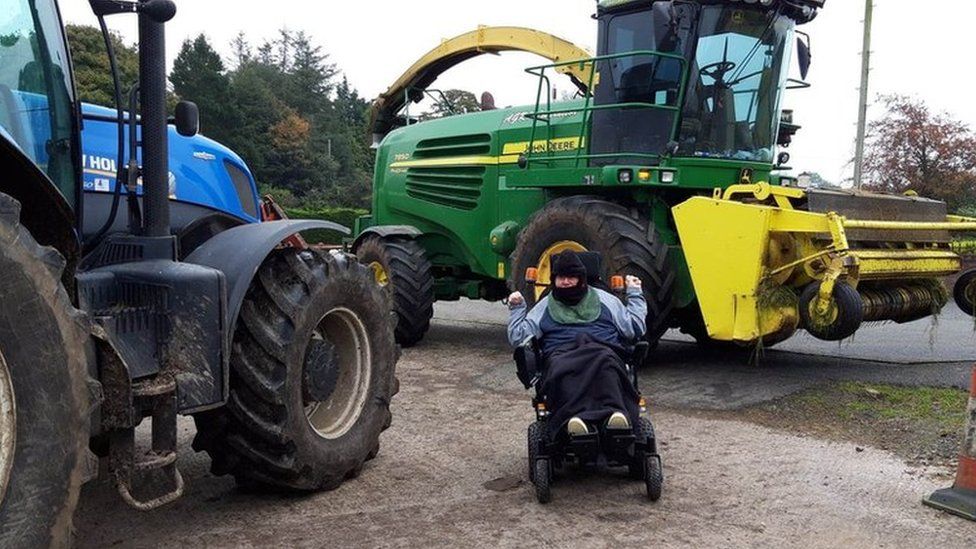 Jonathan's sister Glenda says any disbaled person should be allowed to pursue what they are passionate about
"The wheelchair ensures that he feels involved and just gives him that sense of purpose," said Glenda.
"It's amazing all the things that they can think up - all these farming gadgets that fit on to his chair have just kept coming and coming.
"Between family, friends and my brother Alistair especially, who runs the farm now after my father died, everyone has suggested something that we could try out and then eventually even got for his chair.
"We actually have about two lorry containers out the back of the house full of Jonathan's wheelchair attachments - everything from trailers to a snow plough for the front of his chair."
From BBC