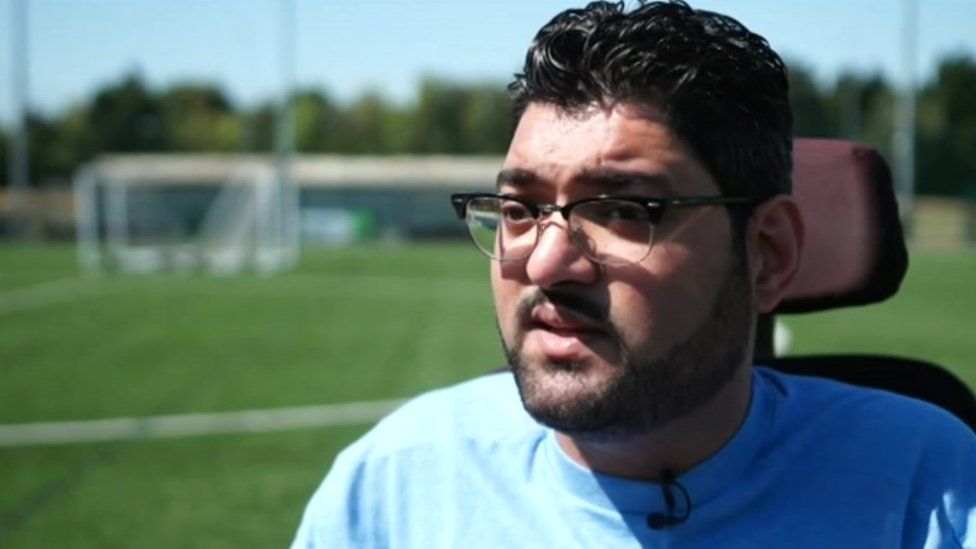 Samad Majid said he became frightened when his wheelchair became stuck at a turnstile
Two disabled brothers who had "horrific" accessibility problems at last year's Champions League final have contributed to a review into standards.
European football's ruling body Uefa commissioned an independent review after the organising of the final was heavily criticised.
Samad Majid, from Dudley, said staff did not help when his wheelchair got stuck at a turnstile.
Uefa has been contacted for a response. The review has yet to be published.
The second of the brothers, Sahad Majid, said conditions at the Stade de France, Paris, were not safe "at all".
Uefa previously apologised to Liverpool and Real Madrid fans who faced problems at the ground on 28 May last year, but has also said it would not comment further until the findings of its investigation emerged.
In October, however, a panel of experts, who looked at more than 480 fan testimonies, found a build-up of supporters outside the ground risked fatalities. The match was delayed by 36 minutes.
The Majid brothers, both Liverpool fans, said accessibility issues contributed to problems.
Samad Majid said that on arrival at the stadium, ahead of the biggest game in European club football, he was met by untrained staff at the turnstiles.
"It was horrific - that was possibly the worst stadium I've been to," he said.
"I could see that my wheelchair wasn't going to get through. And lo and behold, my wheelchair got stuck, so the only thing I was thinking about in that moment is 'how do I get out of here'?
"Because I was blocking the gate to get to the other turnstiles, people would actually have to climb over the wheelchair - it could cause a situation that was obviously quite dangerous."
He said stewards were "just standing and watching" rather than helping him.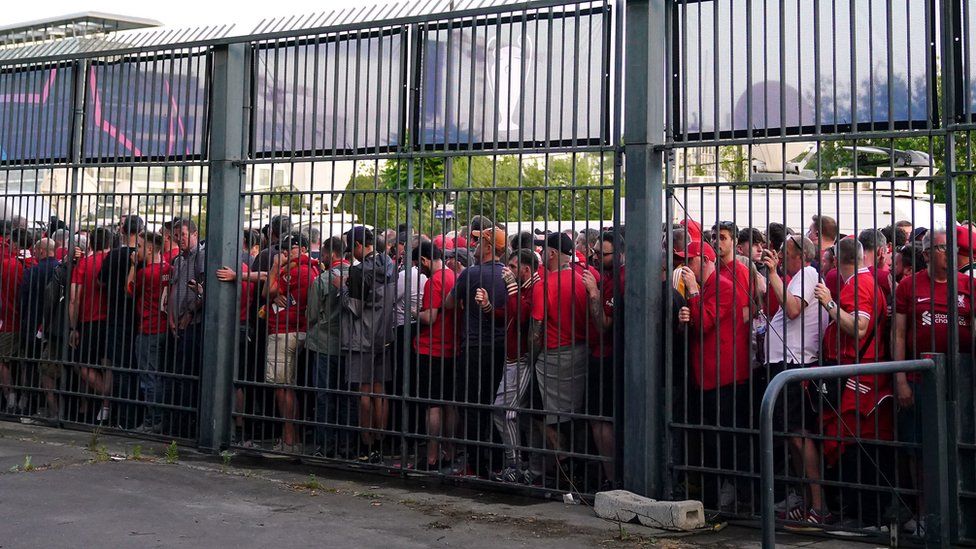 The panel found only the calm response of queuing fans prevented fatalities
There was more disarray inside the stadium, where he said viewing areas designated for wheelchair-users were taken up by standing fans and media outlets.
Hi brother, also from Dudley, said after the game started, an influx of fans and how it was policed "wasn't safe at all".
The brothers hope sharing their experiences about accessibility issues will help improve conditions for disabled fans, both at home and abroad.
"We need a clear understanding of what's happened and why it's happened and what safeguards they are putting in place to make sure this doesn't happen in the future again," Samad Majid said.
From BBC