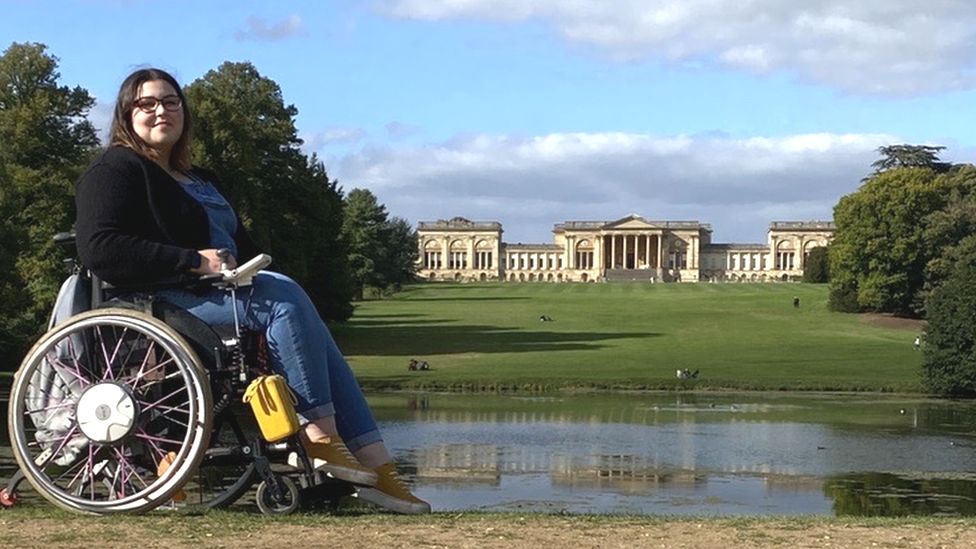 Holly Greader's wheelchair is unusable after the wheel has been lost
When Holly Greader's electric powered wheelchair needed work, she sent it to a mobility aid repair shop.
But when her partner went to collect it, he found the store permanently shut - and to her "shock and disbelief" she was told the wheel was lost.
The 25-year-old from Llanrumney, Cardiff, said she feels "like a part of me has been just been taken away".
Menzies LLP, the accountancy firm involved in the shop's liquidation, said the situation was "regrettable".
Snowdrop Independent Living, which was based in Penarth, Vale of Glamorgan, stopped trading in January after it got into financial difficulties and its stock was sold to pay for the liquidation.
Both Menzies LLP and Deltron Lifts - which bought some of the stock - told Ms Greader they did not have her wheel.
She said she was told her wheel may not have been deemed valuable enough to keep, meaning it could have been thrown away.
"Honestly it felt like some sort of joke, I couldn't quite believe it. I was in utter shock and disbelief," she said.
The wheel was a special electric calibrated modification that alters a manual wheelchair into a powered one.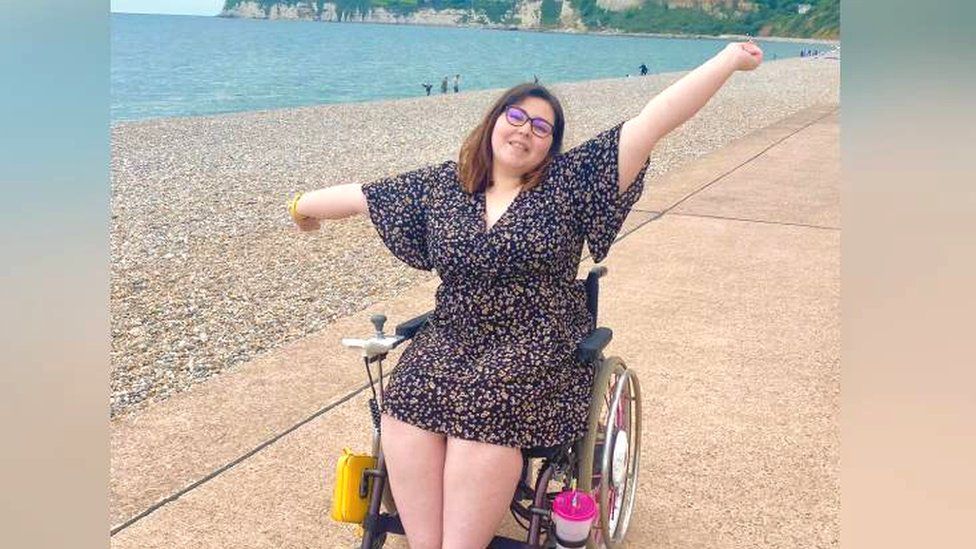 Holly Greader says her E-Fix wheelchair allowed her to live an independent life
This allows the user to cover long distances quickly and easily.
"The idea that it may not have been valuable enough to keep around doesn't make sense to me," Ms Greader said.
"My wheelchair to me is the equivalent of a person's legs to them.
"I feel violated, like a part of me has been just been taken away."
She said she has been quoted £2,538.84 to replace the wheel.
"I just felt so deflated and so heartbroken," she said.
"I don't have that kind of money lying around. And even if I did, it shouldn't be money that I'm paying."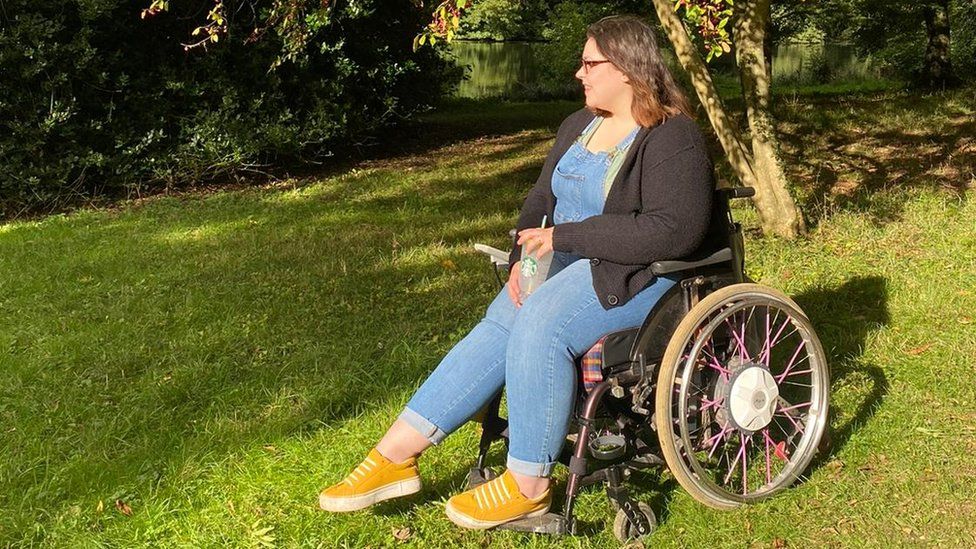 Ms Greader says she has been left feeling anxious and tired through worry
"Essentially someone has stolen my property. It went in for repair and now it's vanished."
"It reminds me how disabled people are treated like second class citizens, how society is unwilling to see the world from our perspective and how ignorant people choose to be."
She also felt it was not just her who lost money, as the wheelchair was paid for through a fundraiser.
"[Donors] put their own money into providing me my quality of life again and my independence," she said. "I've not only lost a part of myself but like I've lost such a precious gift.
"The E-Fix changed my life in ways I cannot explain."
Before her E-fix, she described herself as "severely depressed" and "very reliant on other people".
"The second I got it, it was like overnight I became a new person, because I could actually do things again.
"It has been my entire life for the last five years. It has been everything, it is invaluable and there is not a price that you can put on your independence and your freedom."
Due to her different needs, she also has a mobility scooter and a powerchair.
But she said the E-Fix was more versatile for travelling in other people's cars as it can be folded up.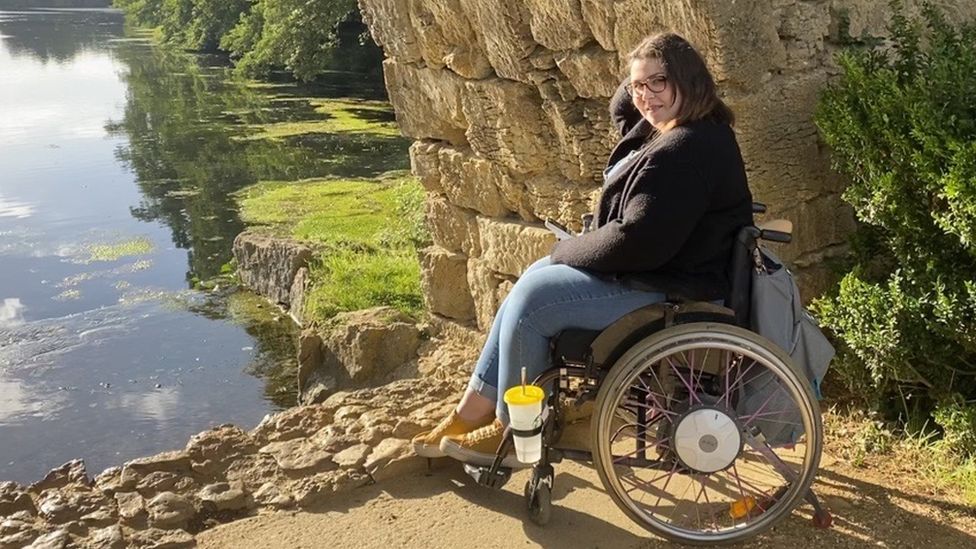 Ms Greader said the E-Fix allows her to cover greater distances and without it she is "vulnerable".
Bethan Evans, joint liquidator for Menzies LLP, said it did not have access to Snowdrop Independent Living's former trading premises.
She said Menzies had to prioritise employees and His Majesty's Revenue and Customs over other creditors.
But she said "it is still possible" that Ms Greader's claim can be settled and she will be informed if so.
Disability Wales, the national association of disabled peoples organisations, said: "For disabled people who are wheelchair users, their wheelchairs and other mobility equipment support them to having independence and freedom in their lives.
"We're saddened to hear of the closure a mobility repair centre and how this has left some disabled people without their wheelchairs while they search for affordable repairs.
"We know losing the use of such equipment will have a big impact on the daily lives of a disabled person."
From BBC