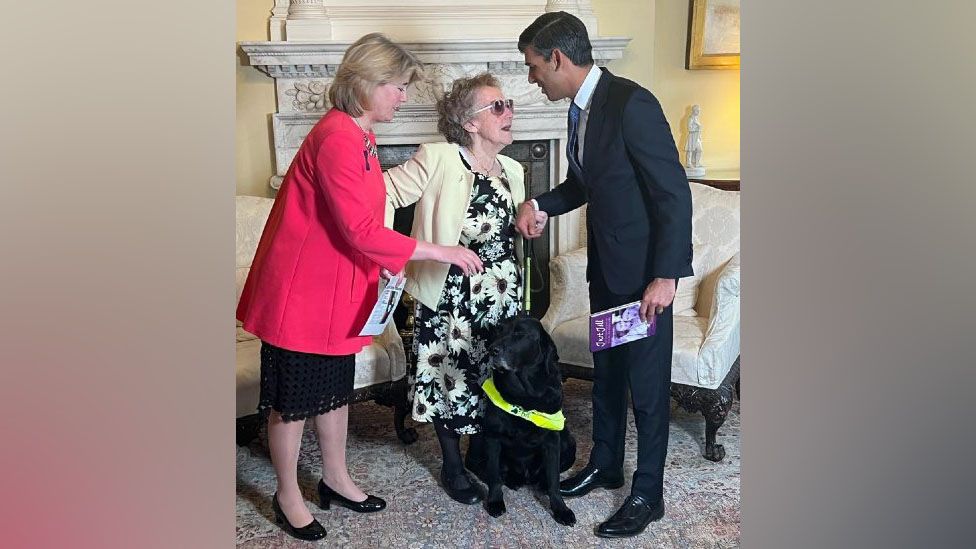 Jill Allen-King and Southend MP Anna Firth meeting Prime Minister Rishi Sunak at an event for community champions
A campaigner for blind people will be without a guide dog for the first time in 51 years when hers retires in June.
Jill Allen-King, 83, from Westcliff, Essex, fears she may have to wait 18 months to be given another dog due to a national shortage.
She said her current guide dog, Jagger, who will be 11 in August, was "fit and well" and still wanted to work.
The Guide Dogs charity said there had been a shortage of dogs due to the restrictions of the pandemic.
The lockdown in 2020 led to a pause on breeding and made puppy training difficult due to the closure of restaurants and other public spaces.
Ms Allen-King had to have one of her eyes removed as a baby due to measles and lost her sight fully aged 24, on her wedding day, due to glaucoma.
Since then she has campaigned for better access rights for blind and partially sighted people.
She came up with the idea for textured pavements at road crossings and was given an OBE for her services to disabled people.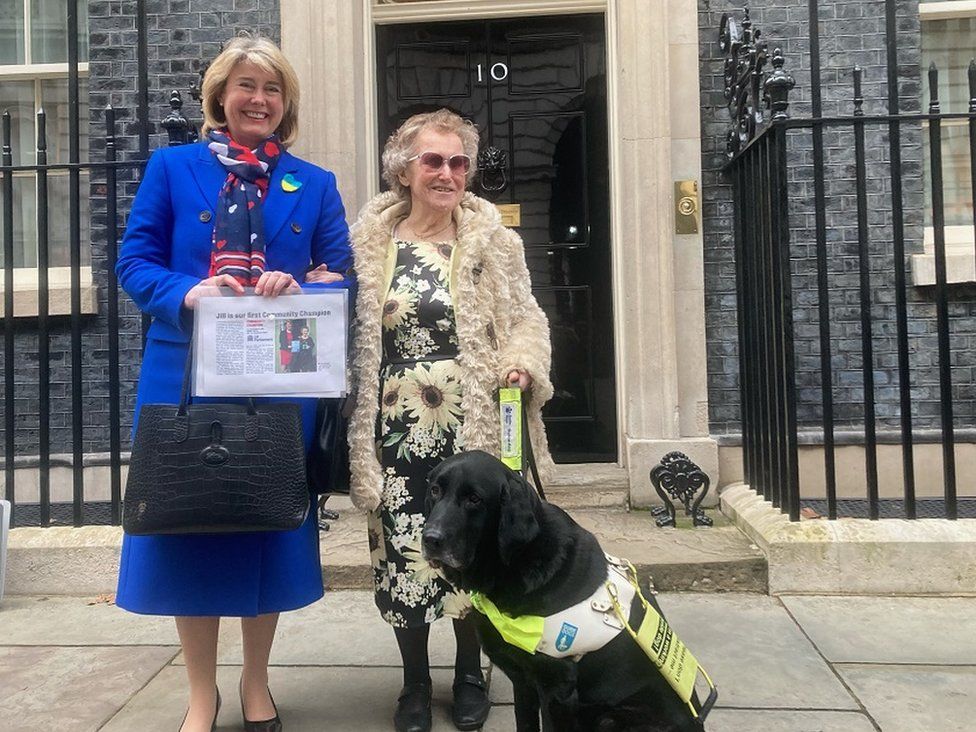 Allen-King with Jagger and Southend MP Anna Firth outside No 10 Downing Street
Ms Allen-King, who has had seven guide dogs in the past 51 years, said she was worried about losing her independence.
In March she met with Prime Minister Rishi Sunak and asked him to help with the shortage of guide dogs across the UK.
Her MP, Southend's Anna Firth, asked the Guide Dogs charity to make an exception and allow Jagger to continue working rather than leave her without a dog.
Jagger was assessed by the charity and on Wednesday, its chief operations officer, Peter Osborne, told Mrs Allen-King the dog would "very likely" be retired in June.
Ms Firth said she was "disappointed" by the decision and would be seeking assistance from the prime minister.
"Having made such enormous progress as a society to give blind people back their independence, we must not allow blind and partially sighted people to become the hidden victims of Covid," she said.
"Jagger has been looking after Jill for many years and is literally her connection with the outside world.
"Waiting for anywhere between 15 months and 3 years for a replacement dog is just not acceptable for an octogenarian Pride of Britain lifetime achievement winner.
"I will not leave a stone unturned to get Jill a replacement guide-dog as soon as possible."
Mr Osborne said: "We completely understand how difficult it is for Ms Allen-King and for other guide dog owners when their dog retires or when they are waiting for a new guide dog.
"We must carefully consider the health, wellbeing and welfare of the dog as well as their owner when it comes to making the difficult decision about retiring a guide dog."
From BBC